William Pegler was born at Newnham, Glos, and was baptised there on 24 April 1825, one of many children of Samuel, a baker, and Susanna.
By 1851 William had left home, was living with his elder brother George at Crane Street, Trevethin, Monmouth, employed as a grocer with his brother employed as his assistant. Their father Samuel was by then widowed and living with a married daughter at Bedwelty, Monmouth, recorded as a retired grocer. There is no evidence to suggest that the family were well-off at this time and appear to have been everyday tradesmen. By 1851, however, there is already a suggestion that William was doing well for himself as he and brother George had two domestic servants living-in with them. George later recorded himself as a commercial traveller, tea dealer, grocer and provision merchant. He married, had children and retired to Dorset.
William himself appears to have married twice. On 27 March 1851 he married Rebecca Duggan at St Augustine the Less, Bristol, and they had at least three children; William (b1857), Rebecca (b1858) and Edgar (b1860), all born at or near Pontypool which would be appropriate for a Trevethin address.
Later, their eldest son, William, became a provision merchant, married, was a Justice of the Peace and died at The Mount, Chepstow, on 30 April 1908 being buried at Saint Arvans, Monmouth.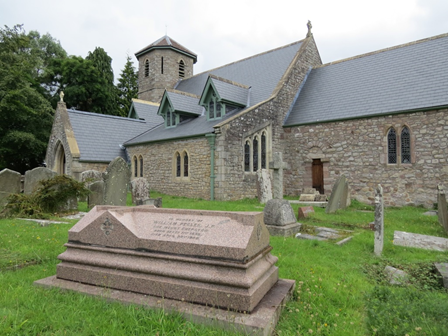 William Jnr's grave at St Arvans.
Son Edgar also became a provision merchant. Daughter Rebecca married John Price at Usk in 1883.
Mother and wife Rebecca died in 1868 and William wasted no time in remarrying Agnes Barnard at Hereford, Agnes' home city, the following year, 1869. William and Agnes had four daughters; Jessie (b1871), Agnes (b1872), Ella (b1875) and Ethel (b1889).
By 1871 William was living with his new wife and the children from his first marriage at Cheltenham living off rent dividends. His three children were all at school and they employed a cook, housemaid and nurse all of whom appear to have travelled with them from Pontypool.
By the time that first child Jessie was baptised at St Pauls, Cheltenham, William was recording himself as a gentleman and was living at Georgina Villa, Wellington Square, Cheltenham. It would appear that it was only daughter Agnes who was baptised at St Mary's, Norton, on 28 February 1872 at which time William was at Norton Court described as a gentleman.
The family then spent a short time at Slimbridge and in 1876 a son Reginald was baptised there.
In 1881 William was living with his second wife Agnes and daughter Rebecca at Porthycarne House, Usk, Monmouth, giving his occupation as a grocer again. It would appear that the family were a little more than grocers and they still had a cook and a housemaid living in.
In 1891 William was living 'off his own means' with his family at Westfield, Holdenhurst, Bournemouth, Hants, at which time they had five servants, a gardener, cook, parlourmaid, housemaid, and nursemaid, all from Glos. so it appears they liked to hold on to their staff.
In 1901 William was living off his own means with wife and daughter Jessie at Darley Abbey, Derbys.
William died on 25 October 1906 at his residence at 'The Beeches', Duffield Road, Derby, at which time he was still described as a gentleman. To show that he hadn't been forgotten in this part of the country he still warranted a mention in a local newspaper when the Gloucester Journal of 10 November 1906 reported his death and burial; "The funeral of the late Mr William Pegler – formerly of Norton Court and Cambridge House, Gloucestershire – who died at his residence, The Beeches, Duffield Road, Derby, took place at Darley Abbey Church last week. The interment took place in a private grave, which was opened for the deceased gentleman's daughter in 1899. The committal service was taken by Rev A E Hunt. The body was placed in an olive wood shell covered with purple cloth and enclosed in an outer case of polished English oak with brass appointments and plate engraved :- 'William Pegler. Died October 25th, 1906. Aged 81 years'". Probate was granted to his widow and to Charles Dundas Price, another provision merchant, for his effects valued at £61620 8s 6d. This was an enormous sum of money and using an inflation calculator to give an idea of its real value suggests that it would have been the equivalent of £7,500,000 in today's terms.
Daughter Ella died in 1899 and it must have been her grave that William was interred in. By 1911 Agnes, now a widow, was living in the household of daughter Agnes who had been born at Norton. Daughter Agnes had married Charles Bluett Hale, a mechanical engineer, and they were living with their family at Sutton, Surrey. Youngest child Ethel was also in residence. Daughter Jessie died in 1967 at Nottingham as did mother Agnes, in 1934.