The Webbs had been a prominent Gloucester family for some years. Thomas Webb, son of John Webbe of Beech Ash Green, Painswick, was a mercer of Gloucester and had been Alderman in 1708, Mayor in 1711 and MP for the City between 1708 and 1713. Amongst his grandsons we find Richard Webb, Mayor of Gloucester in 1760, 1767 and 1782.
It was Richard's brother John Webb that provided the connection to Norton Court. He had been born in 1730, became Captain of the East Indiaman 'London' and had married Arabella Fettiplace of Swinbrook, Oxon. He was one of two Sheriffs of Gloucester in 1761, was Mayor in 1770, 1776 and 1786 and MP for the City in 1780.
Colonel Edward Webb, the son of John and Arabella inherited the house at Norton upon his mother's death in 1803. Edward lived mainly at Adswell Tetsworth and Stoke Bishop and he married Jane Mary Catherine, the third and youngest daughter of John Guise Bart of Highnam Court. Amongst his achievements he was created DCL Oxford in 1823, was President of the Anchor Society in 1818 and sat for MP of the City of Gloucester between 1816 and 1832 being also defeated in May 1838. He was one of Gloucester's Common Council in 1819, Captain in the Royal North Gloucester Militia in 1803 and Lt Col of the 1st Eastern Battalion Gloucestershire Local Militia in 1809.
In May 1838 Col Webb unsuccessfully opposed Mr Hope at the general election, he had also been subject to a complaint of the heart, possibly ossification. Col Webb was still a relatively young man, in his late 50s, and the combination of these events may have triggered some life changing decisions for him.
Early in that year he decided to sell Norton Court and planned to go and live on the continent. With this in mind he set up a sale of some of his effects at Norton Court including an impressive collection of fine artworks. Details advertising the sale were reported in the Gloucestershire Chronicle newspaper of 8 May 1839; "Important and Genuine Sale. Norton Court House, near Gloucester, on the Tewkesbury Road, formerly the Residence of Col Webb MP. A full set of the finest Proof Engravings after the justly celebrated pictures of Wilkie and Landseer; a choice collection of Oil Paintings, well worth the attention of the connoisseur; about 60 dozen of very superior Wines, bottled Cider, Perry, and Ale, several hogsheads of Cider and Perry: Library of Books, handsome Plated Goods, all the elegant and modern Household Furniture , Billiard Table, town-built Stanhope, double and single Harness, Horse Clothing, Setters and Spaniels, and variety of miscellaneous articles belonging to the present proprietor, who is about to reside on the Continent, and who has commissioned the whole to be Offered to Public Competition by John Crosse, Upon the Premises, on the 2st, 22nd, 23rd, and 24th of May, 1839. The engravings are of the very first order, and have been selected with much taste and care and at great experience; they are all early proofs, and some before the letters, all are uniformly framed in bird's eye maple and gold, and are covered with the most silvery and brilliant plate glass that could be procured. They comprise all the Engravings from Wilkie's fine Paintings, and a proof before the letters of an Engraving from Landseer's justly-celebrated Painting, Bolton Abbey. Such a splendid collection is rarely to be obtained, and has seldom, if ever, been offered for sale by auction. The Paintings have been selected with equal taste, regardless of cost, and comprise among the number a genuine Jan Steen, an Adrian Bronwer, two Cabinet Gems by old Peter Neefs, De Koningh, Peter Rysbrucck, Peter Van Bradael, Ommeganck, Jordaens, De Heusch, John Asselyn, Wilson, Vermeulen, Blake, Wright, of Derby, &c &c. The Wine is of the highest quality, in Burgundy, Claret, Champagne, Hock, St George, Port, Sherry, Madeira, &c. The bottled Ale and Cider are superior. The seven hogsheads of Cider and Perry are of good quality. The Library contains some valuable Works. The Household Furniture is of the best London make, modern, and nearly new, and would be desirable to any gentleman furnishing. The Billiard Table is in good condition and has been purchased of Thurston within a few years. The Stanhope is town-built by Hall, and nearly new. The Dogs are well-bred and superior. The other articles are of the best description".
Unfortunately I can find no report following the sale.
Prior to moving to Europe, Col Webb, his daughter Frances, and a couple of friends were to set off on a tour of North America, planning to travel aboard the SS Great Western.
[The SS Great Western was built in 1837, was an oak-hulled paddle-wheel steamship, the first steamship purpose-built for crossing the Atlantic, and the initial unit of the Great Western Steamship Company. She was the largest passenger ship in the world from 1837 to 1839. Designed by Isambard Kingdom Brunel, SS Great Western proved satisfactory in service and was the model for all successful wooden Atlantic paddle-steamers. She was capable of making record Blue Riband voyages as late as 1843. SS Great Western worked to New York for 8 years until her owners went out of business. She was sold to the Royal Mail Steam Packet Company and was scrapped in 1856 after serving as a troop ship during the Crimean War].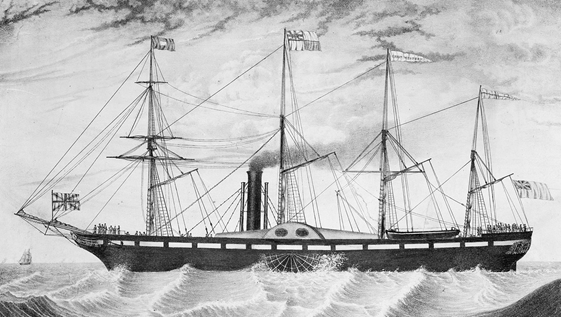 Lithograph of The Steamer Great Western, H R Robinson
So, on 6 July 1839, the party all set off to sea from Bristol on their adventure to the New World. The ship was packed with cargo and had more than a full complement of passengers with a newspaper reporting that "several gentlemen having resolved to sleep on sofas rather than miss their passage". Col Webb apparently suffered most severely on his voyage from the effects of sea-sickness and was not a well man by the time of their arrival at New York. The party made a very short stay here then moved on to Niagara Falls where he was seized with illness of so serious a nature that his medical attendant recommended his immediate return to Great Britain. The party made a hasty return to New York but Col Webb died within a few hours of their return there.
Plans were made to return Col Webb's body back to Gloucestershire for interment at Elmore and an elaborate funeral was arranged. His body was actually returned to the UK aboard the packet ship 'Gladiator'. The Gloucester Journal newspaper of 19 October 1839 reported; "The Late Colonel Webb. The remains of this much lamented gentleman, whose death in America we announced in our last week's paper, have been brought to this country and will be interred at Elmore, on Monday next. On their way to the tomb they will be conveyed through this city; and we understand that it is the intention of many of the inhabitants, as a last mark of respect, to join the funeral train in procession, in its progress through our streets. The corpse will be brought to Wotton, at ten o'clock in the morning of that day, and those persons who are desirous of participating in this manifestation of regard and regret will assemble at the Fleece, at Wotton, at half-past nine, and accompany the melancholy procession through the city to the turnpike on the Bristol Road".
The Gloucestershire Chronicle newspaper of 26 October 1839 reported in detail on the occasion of Col Webb's funeral and I include the article here; "On Monday morning last, most of the shops and private houses in this city were either wholly or partially closed, as a mark of respect to the memory of Colonel Webb, whose funeral, in accordance with the notification published by ourselves and our contemporary, was appointed to take place that day. Shortly after nine o'clock a number of the most respectable inhabitants of the city proceeded to Wotton, to meet the funeral cortege, and at half-past ten a procession was formed in the following order: Two mutes on foot. Bout one hundred and forty inhabitants of Gloucester, in deep mourning, two and two. Twenty-four tenants of the deceased and Sir J W Guise, on horseback, with silk hat-bands, two and two. Two mutes on horseback. Chariot, containing two clergymen. Plume of feathers borne on a man's head. The Hearse. Containing the body, drawn by four horses, with plumes and velvets; attended on either side by the underbearers, with their staves. Four mourning coaches, each drawn by four horses, also with plumes and velvets; the first two carriages containing the mourners, and the two last the pall bearers. Private carriage of the deceased. Private carriage of Sir John Wright Guise, Bart. Private carriage of – Boskerville, Esq. Private carriage of – Allen Esq. Private carriage of – Guise Esq. Private carriage of the Rev Edward Jones. Private carriage of H C Clifford Esq. Private carriage of Robert Canning Esq. Private carriage of Dr Evans. Whilst the mournful cavalcade passed along, the bells of the various churches were tolled; and the streets were lined with spectators, who manifested by the decorum of their behaviour the respect which they entertained for the memory of the deceased. On reaching the turnpike on the Bristol Road most of the individuals who followed on foot returned home; but several we believe proceeded to Elmore, where the remains of Colonel Webb were deposited. In the evening muffled peals were rung at some of the churches". What a shame there were no cameras at that time to record what must have been a memorable spectacle.
After his funeral Col Webb was buried at St John the Baptists, Elmore, Glos, on 21st October 1839, near the home of his wife; Jane Mary Catherine, the third and youngest daughter of John Guise Bart of Highnam Court.
Col Webb is also remembered at Gloucester Cathedral where a monument to his memory was erected in 1842 and was reported in the Gloucester Journal newspaper; "A mural monument to the memory of this much esteemed gentleman has just been erected in our Cathedral. It is a beautiful work of art, designed and executed by Mr Hopper, of Wigmore-street, London. The figure which represents Faith, Hope and Religion, is a delicately executed piece of sculpture, the emblematic representations, the bible, cross and anchor, being so tastefully introduced as to appear almost a part of the well carved drapery of the figure, above which there is deep sunk arch, in strict keeping with the general style, surmounted by a beautiful crocketed pediment crowned with a richly ornamented finale. The style of the monument belongs to the latter part of the reign of Edward the 3rd, and is commonly called the decorative Gothic. The crockets and other ornaments resemble the internal decorations of the elegant church of Shottesbrooke, Berks. On a panel underneath the figure is the following just and appropriate inscription :- 'Sacred to the memory of Col. Edw. Webb, of Norton Court, in this county, and of Adwell, in the county of Oxford, who, during several successive Parliaments, had the honour of being one of the Representatives of this ancient city. He was alike highly respected in his public capacity for the integrity and independence of his character, as in private life he was endeared to all by his amiabilities of heart, and the active benevolence of his disposition. He departed this life on the 18th of Sept. Anno Domini 1839, aged 60'".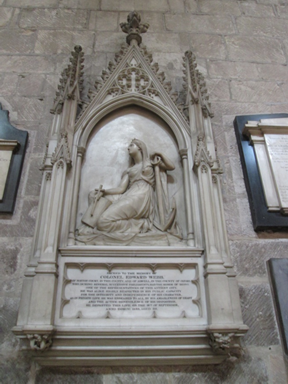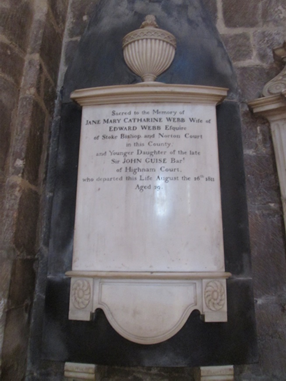 Col. Edward Webb and his wife
Col Webb's wife also has a memorial at Gloucester Cathedral which reads; "Sacred to the Memory of Jane Mary Catherine Webb Wife of Edward Webb Esquire of Stoke Bishop and Norton Court in this County and Younger Daughter of the late Sir John Guise Bart of Highnam Court who departed this Life August the 26th 1811 Aged 29"
There is another memorial inside Gloucester Cathedral recording several other members of the Webb family.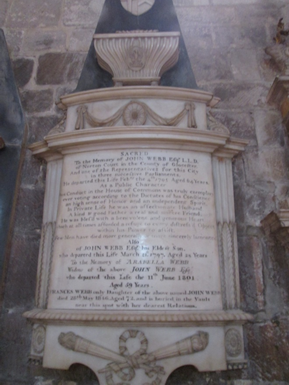 The memorial reads; "Sacred to the memory of John Webb Esq LLD of Norton Court in the County of Gloucester. And one of the Representatives for this City in three successive Parliaments. He departed this life Febry the 4th 1795 Aged 64 Years. As a Public Character his Conduct in the House of Commons was truly exemplary ever voting according to the Dictates of his Conscience an high sense of Honor and an independent spirit. In Private Life he was an affectionate Husband A kind & good Father and a real and sincere Friend. He was blesd with a benevolent and generous Heart which at all times afforded a refuge to every distressed Object within his Power to assist. Few Men have died more generally or more sincerely lamented". The stone also records; "Also of John Webb Esq his Eldest Son. Who departed this Life March 21 1797. Aged 28 Years. To the Memory of Arabella Webb Widow of the above John Webb Esq who departed this Life the 11th June 1801 Aged 59 Years. Frances Webb only Daughter of the above named John Webb died 28th May 1846 Aged 72 and is buried in the Vault near this spot with her dearest Relations".
Upon Col Webb's death, his daughter Elizabeth Frances Webb inherited a vast fortune that had been amassed by her grandfather John, as well as Norton Court.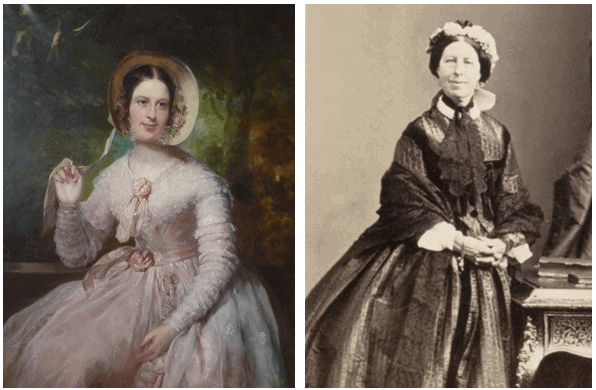 We are fortunate that we can now include several likenesses of Elizabeth Frances Webb kindly lent to us by a descendant of the Webb family, Rupert Peploe. The artist of the portrait is Benjamin Rawlinson Faulkner and it was painted around 1840. He was a reasonably accomplished artist of the day but rather forgotten now. The photograph was taken in approximately 1863 whilst Miss Webb was in Paris. When Miss Webb died she left her cousin Daniel Peploe miniature portraits of Captain John Webb of Norton Court and his brother Daniel but unfortunately they do not appear to have been passed to the family by her executors so we have no image of either Captain John or his son Colonel Edward Webb of Norton Court - or not yet anyway.
Norton Court briefly left the hands of the Webb family in 1861 when Elizabeth Frances sold it, preferring to live in an enormous house she had built at 29 Chesham Place, London. Her second cousin Edward bought Norton Court back into the family again in 1864. Edward was a partner in Dent & Co and he lived in China overseeing the business. [Dent & Co were general merchants in China and had main offices in an old bungalow on the corner of Kiukiang Road and the famous Bund in Shianghai but these were sold and pulled down in 1915. They also had large offices at Pedders Wharf, Hong Kong.] Edward may well have been pleased with the opportunity to be able to purchase his old family seat again but his stay was only to be short lived and was to mark the end of the Webb family's long connection with Norton when he sold the property in 1867.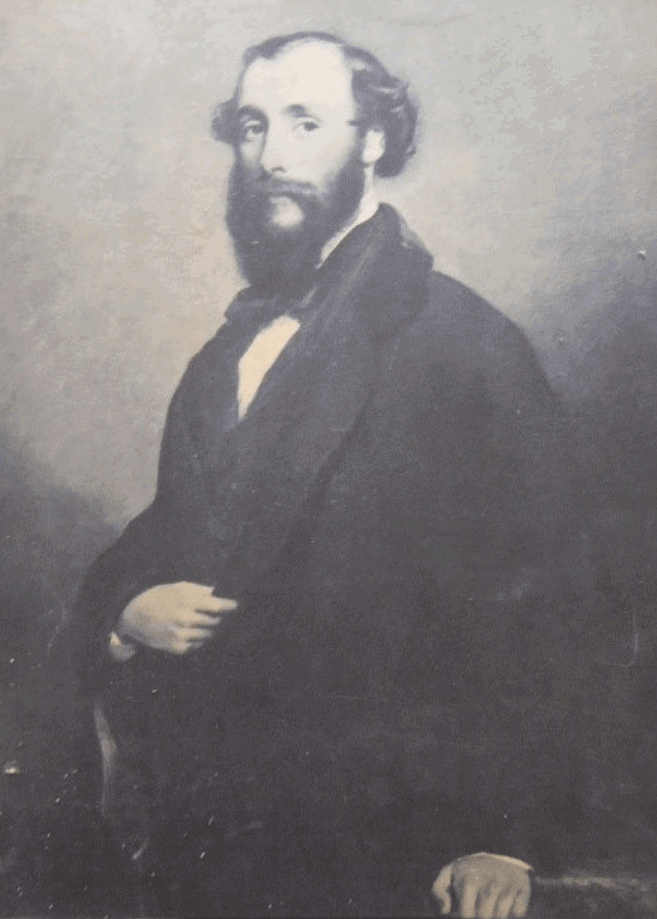 The descendant of the Webb family, Rupert Peploe, who lent us the likenesses of Elizabeth Frances Webb has also kindly lent us the above photo of Edward Webb.
When Elizabeth Frances died in 1876 she left her money and many Webb heirlooms to her mother's Guise family which didnt prove too popular with her Webb relations.
In 1863 Edward lived at Blaidson, Glos., at High Canons House, in 1891 at Shenley, Herts, and in 1901 at Durrington House, Sheering, Essex. Edward died on 19 January 1906.