It is almost certain that the two people remembered by the memorial stone inside Norton church tower are William and Ann Lane, members of a predominantly Apperley family; but what do we know about the Lane's and indeed Anne's family prior to their marriage.
In 1623 and 1682 the Heralds visited Gloucestershire to record the pedigrees of the important families of that time. The 1682 record includes details of the two families in which we are here interested.
Lane of Apperley in Deerhurst
Arms :- per pale azure and gules three saltires or
Crest :- out of a crescent or two griffins heads conjoined and endorsed perpale azure and gules a mullet for difference
The generations that we are interested in are recorded as follows :-

From this brief extract we can see several marital connections between the Lane family and Bishops Norton and more importantly that William Lane's wife Anne was descended from the Browne family. This family had long held a seat and estate in Norton until their lands were seized in 31E1 (thirty first year of the reign of Elizabeth I, 1589).
There are a number of entries in Norton Parish registers from this period for the Lane family of Apperley, starting with Mr John Lane found in Haynes Croft in the parish of Lye who was buried in Norton on November 11th 1689. Now Atkyn's history of the county mentions a Mr William Lane who had 'a handsome house and good estate in Apperley'. Another Mr Lane of Apperley, whose Christian name or names are not given, was buried at Norton on February 3rd 1691. A little later, Madam Ann Lane, widow of Captain Lane of Apperley, was buried on September 14th 1692. Then it is recorded that several children of Richard Lane, gent, and Katherine were baptised at Norton. The Bishops Transcipts of the Norton Parish records from this period record the burial of 'Old Mrs Lane of Nortons Court' on 20 February 1693 and there is also a record stating that William Lane of Apperley was buried at Norton on October 12th 1708
In Robert Atkyns history of Gloucestershire in 1712 he recorded that Lane "has a handsome house and good estate in this place [Apperley]" so the Lane family continued to flourish locally after the 1600s. The last reference to the Lane family in the Norton registers occurs in 1713 when Richard's child Anne was buried.
The Browne family generations in which we are interested are again recorded at the time of the Herald's visitatio. The 1682 record includes details of the Browne family from that period, identifying them as 'Browne of Corse and Tirley'. I have reproduced an extract from this entry below.
Browne of Corse and Tirley
Arms :- or on a fess fules three chess rooks of the field in chief as many martlets (sic) sable
Crest:-a demi eagle with two heads displayed sable (sic) beaked and charged on the breast with a leopard face or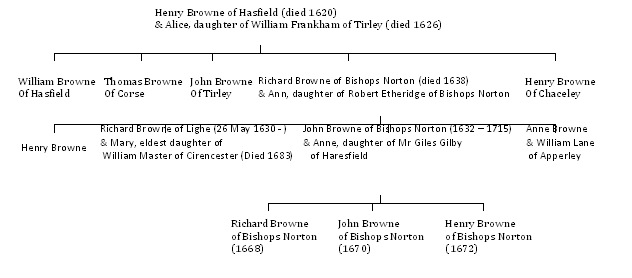 The first named Henry Browne was living at Hasfield at the time of his death in 1678 and the Victoria County History for that parish records; "An estate centred on the Great House was owned by the Browne family in the 16th century. In the 17th century the house was known as Hasfield House, but in the late 18th century the house and estate were called Pigeon House Farm, and from the mid-19th century the Great House. Two members of the Browne family occur at Hasfield in the early 16th century — John Browne was lord, and Henry Browne was at one time tenant of Hasfield manor — and a Henry Browne died in 1580 leaving lands in the parish to his son, also Henry. In 1610 Henry's lands in Hasfield amounted to c. 100 a. centred on Hasfield House. He died in 1620 and was succeeded by his son, William, who in 1627 was involved in a dispute with Sir Richard Tracy, lord of Hasfield manor, over Tracy's claim to services from Browne's lands. William Browne died in 1658, and his son Henry in 1678, leaving all but a small part of his Hasfield possessions to his wife Eleanor, with reversion to their son William. William, who was badly in debt by 1691, mortgaged his Hasfield inheritance to Benjamin Hyett in 1694. Hyett was proceeding against Browne for repayment in 1699, and later Browne sold his reversionary interest to Hyett, whose son Charles took possession on Eleanor Browne's death in 1715".
Robert Atkyns recorded that "there is a handsome monument in the chancel [of Norton church] for Mr Richard Browne who died 1636". The Browne family also held the manor at The Leigh at one time and Atkyns again recorded that an inscription to Mary, wife of Richard Browne, can be found in the cross aisle of the Leigh church. She died in 1683. I have not checked either of these references.
Richard and Anne Browne's son John was brought to my attention again in 2005 when the website of W.R. Harvey & Co. (Antiques) Ltd of Witney, Oxon, were advertising for sale a 'portrait of John Browne of Norton Court Gloucester'. (http://www.wrharvey.com/harvey/) The portrait, described as being a late seventeenth century oil on canvas, has a small plaque beneath and a manuscript label on the rear identifying the sitter. Dated 1682, this is certainly the earliest conclusive image of anyone or anything associated with Norton that I have come across.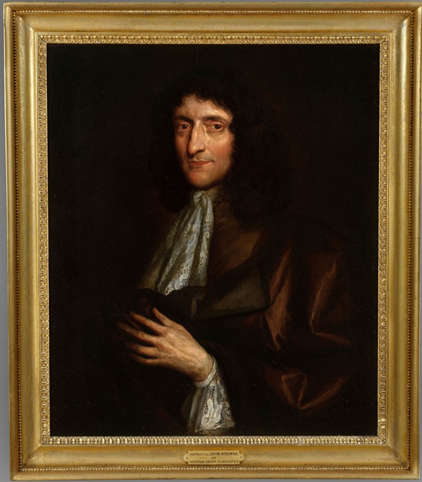 Harvey's included further details on their website; "Research indicates that John Browne was related to an alderman and Mercer in Gloucester, who later became its MP for periods stretching from 1614 up to 1635. He was also Mayor of Gloucester 1610 and 1621. He finally died in 1639 and the sitter is believed to be a relative of his. Norton Court was situated to the North West of Gloucester." A check of this information reveals that a John Browne was a brewer at Gloucester. He was sheriff of Gloucester in 1603 and Mayor in 1610. In 1614, he was elected Member of Parliament for Gloucester. He was mayor of Gloucester again in 1621 and was re-elected MP for Gloucester in the same year. He was re-elected MP for Gloucester in 1624, 1625, 1626 and 1628 and sat until 1629 when King Charles decided to rule without parliament for eleven years. He was mayor again in 1634 and 1635. He leased the manor of Highnam where he died in 1639 and where there is a monumental inscription to him. I can't be certain what, if any, was the relationship between these two John Browne's.
The family tree extract produced by the heralds in 1682 shows a John Browne of Bishops Norton, son of Richard and Ann Browne, who must almost certainly be the subject of the portrait. The baptism register for Norton does not start until 1686 and although there are extracts from Bishops Transcripts dating back into the 1500s I have not been able to identify a baptism for John or his siblings at Norton. John does have a memorial at Norton, however, at the foot of his father's memorial referred to by Robert Atkyns.