Walter Leopold was born in July 1863, son of Sir Walter Lawry Buller (1838-1906) an interpreter, magistrate, ornithologist and lawyer and his wife Charlotte nee Mair. Walter senior was born at the Wesleyan mission, Newark at Pakanae in the Hokianga, the son of a Cornish missionary, Rev. James Buller, who had helped convert the people of Tonga to Methodism and Jane Tonkin Martin. He was educated at Wesley College in Auckland. In 1854, he moved to Wellington with his parents, where he was befriended by the naturalist William John Swainson. In 1859 he was made Native Commissioner for the Southern Provinces. In 1871 he travelled to England and was called to the bar at the Inner Temple. Three years later he returned to Wellington and practised law. In 1862, he married Charlotte Mair at Whangarei and they were to have four children. Walter senior was the author of A History of the Birds of New Zealand (1872–1873, 2nd ed. 1887–1888), and in 1882 he produced the Manual of the Birds of New Zealand as a cheaper, popular alternative. In 1905, he published a two-volume Supplement to the History of the Birds of New Zealand, which brought the work up to date.
Walter senior helped establish the scientific display in the New Zealand Court at the World's Fair in Paris and was decorated with the Officer of the Legion of Honour by the President of France in November 1889. He had several unsuccessful attempts at entering the NZ Parliament. He emigrated to England and died at Fleet in Hampshire on 19 July 1906. Wellington playwright Nick Blake authored a play on Buller's life, Dr Buller's Birds, which had its debut at the 2006 NZ International Arts Festival.
Walter Leopold was a student at Wellington College, New Zealand, between 1877 and 1880. The law beckoned as a career and the Otago Daily Times of 3 April 1891 reported that "Mr W Leopold Buller, … recently passed his final examination as a barrister-at-law and … been called to the Bar at the Inner Temple…".
Walter Leopold married Alice Bridget Ridley in 1909. He returned to England shortly after this and settled at Norton Court. His stay here was to be unfortunately cut short in 1918 as reported in The Evening Post, Wellington, of 16 November 1918 :- "Mr Walter Leopold Buller died in England on the 10th instant from pneumonia. Mr Buller was the eldest son of the late Sir Walter Buller, and before he went to reside in England lived at Lake Papaitonga, near Ohau. Like his father, Mr Buller took a very keen interest in the Maori race, and when he was last in New Zealand a few years ago ne presented to the Government a valuable collection of Maori greenstones and curios. The late Mr Buller married a niece of Lord Stanfordham. He leaves a widow and three children. The surviving member of the family is Mrs Modocks, the wife of Brigadier-General Maddocks".
Walter Leopold Buller has a memorial in St Mary's churchyard; "In ever loving memory of Walter Leopold Buller, born July 25th 1863, died at Norton Court November 10th 1918".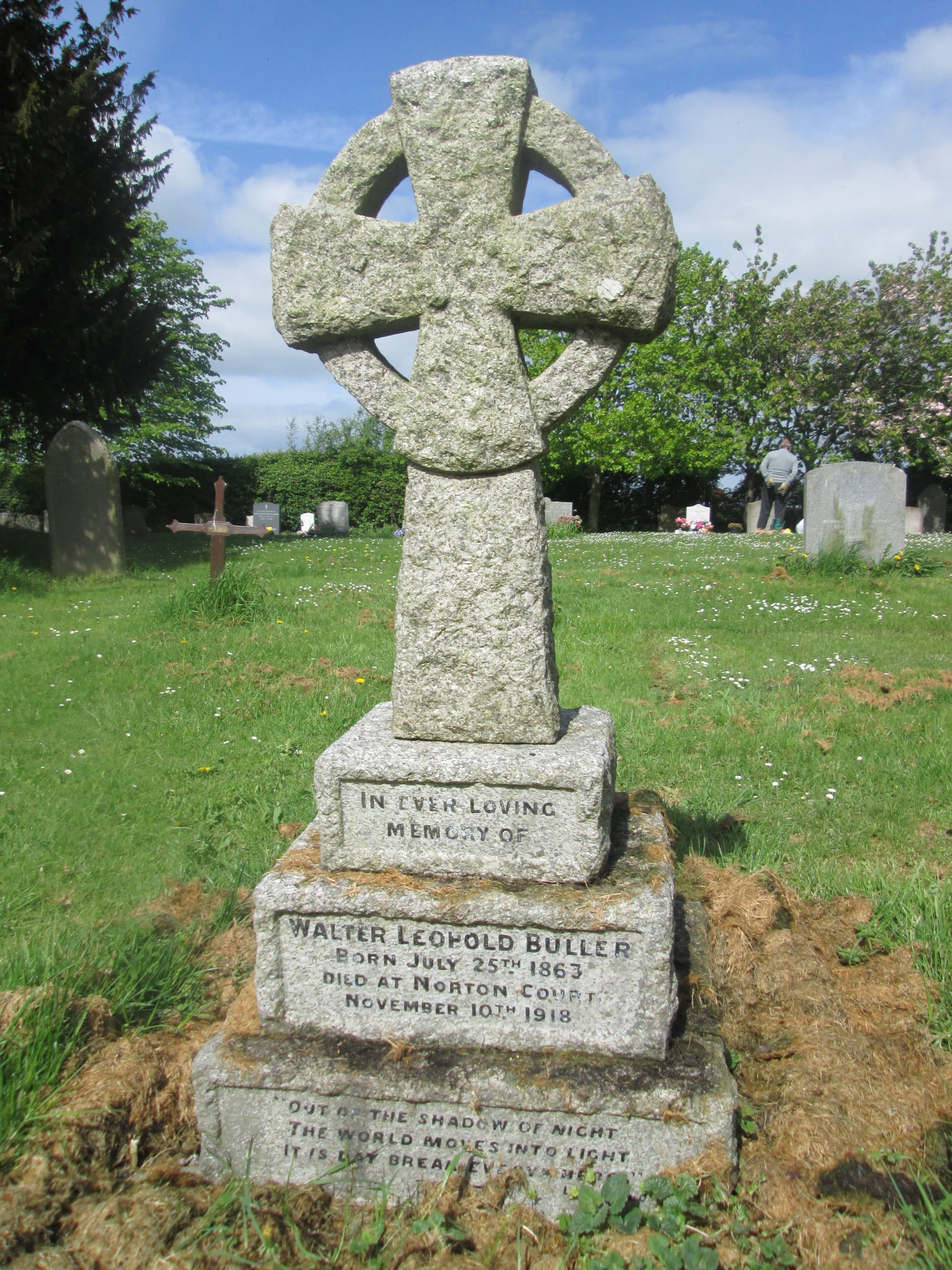 His death and funeral is also recorded in the Norton CofE School Log Books when it was written on 14th November; "Mr Buller's funeral. Elder children left at 2.30pm to attend it".
The Buller family left a legacy for his grave to be maintained but the subject came up for discussion at a meeting of Norton PCC on 23 August 1949; "The Secretary had written to Mr Jordan regarding Mr Bullers grave and had a received a message in reply that he was not able to look after it – the meeting wished the Secretary to write to Mrs Buller on the matter". 17 April 1950; "The Secretary read 2 letters she had received from Mrs Buller in which she desired the PCC to be responsible for the care of her late husband's grave and to receive the fee and pay it to whoever did the work. Mrs Tombs had put the grave in order and she would receive payment of £1 shortly (the yearly fee being £2)".