In 1661 it is recorded that a Mary, Lady Anderson, sold two farms in Bishop's Norton, Higgs and Hoares, to a Peter Heylin/Heylyn. Heylyn was born in Burford, Oxfordshire, on 29 November 1599, the second son of Henry Heylyn (d. 1622), a minor country gentleman, and his wife, Elizabeth Clampard (d. 1616). He entered Merchant Taylors' School in March 1612, at 14 he was sent to Hart Hall, Oxford, and matriculated from Magdalen College, Oxford, on 19 January 1616, aged just 15. He was awarded BA on 17 October 1617 and was elected a fellow in 1618. He later lectured on historical geography at Magdalen. Heylyn was awarded MA on 1 July 1620. In 1620 he presented his lecture to Prince Charles, at Theobalds. In 1621 his lectures were published as Microcosmos: a Little Description of the Great World and this would prove to be his most popular work. The religious views apparent in the early editions of the Microcosmos are those of a conventional anti-Catholic Calvinist, and include many opinions that he would later condemn, including the claim that the pope was Antichrist.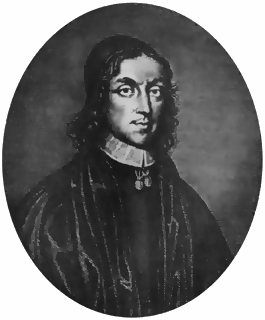 As Peter Heylin died in 1662 this image, produced by Robert White and published in 1681, also just about predates the image we have included of John Browne of Norton Court from 1682 and now takes over as the earliest we have found of a person associated with the village.
At college, where he was dubbed 'the perpetual dictator', Heylin had been an ouspoken controversialist. He subsequently became an outspoken preacher and one of Charles I's clerical followers. He was awarded BD on 13 June 1629. In 1630 he lectured against the Feoffees for Impropriations. He became licenced canon of Westminster in 1631 and rector of Hemingford, Huntingdonshire, in the same year. He became rector of Houghton-le-Spring, county Durham, in 1632 and rector of Alresford, Hampshire, in 1633. Also in 1633 he was licenced to preach and was awarded DD on 13 April 1633. He became a chaplain to Charles I. In 1639 he became rector South Warnborough, Hampshire.
He suffered for his loyalty to the king when, under the Commonwealth, he was deprived of his preferments. He subsequently settled at Lacies Court in Abingdon, Berkshire (now Oxfordshire).
At the Restoration, he was made sub-Dean of Westminster, but poor health prevented further advancement.
He married Letitia Highgate and had a large family. His monument is in Westminster Abbey.
He was a prolific writer, and a keen and acrimonious controversialist against the Puritans. Among his works are a History of the Reformation, and a Life of Archbishop William Laud (Cyprianus Anglicanus) (1668). His Greek titles included Κειμηλιαέκκληδιαδτικα (Historical and miscellaneous tracts 1662 (1681) and Ἡρωολογια Anglorum; or, a help to English history 1641.
He was the writer of the "Cosmographie", an attempt to describe in meticulous detail every aspect of the known world in 1652, the geography, climate, customs, achievements, politics, and belief systems. It appears to have been the first description in print of Australia, and perhaps of California, Terra del Fuego, and other territories in the New World. He objected to the name "America" as it placed undue glory on Amerigo Vespucci, and recommended "Columbana" or "Cabotia" as more indicative of the true discoverers, Columbus and Cabot.
Peter Heylin died just one year after taking ownership of Higgs Farm and in 1667 a kinsman of his, Henry Heylin, also lessee of the rectory estate at Norton, sold them to Edmund Saunders.