WWII - AIR RAID PRECAUTIONS
War was not to be declared until the autumn of 1939 but precautions were being put in place long before that time. On the 3rd May 1938 the Parish Council minutes record that "It was decided to hold a public meeting at the school to consider Air Raid Precautions and the Chairman said he would fix a date with the local organiser, Capt Hayes, and ask him to address the meeting."
Canon Evans-Prosser wrote "In 1938 we began to prepare for a possible war. Many of the peaceful and respectable citizens of Norton attended classes to qualify as Air Raid Wardens. At each we had a lecture by Dr Gaffney a retired doctor living at Ashleworth. The greatest emphasis was placed upon dealing with incendiary bombs and how to cope with a gas attack."
The Parish Council minutes from 16th November 1938 record that "the course of lectures on Air Raid Precautions given by Dr Gaffney were now being held and were well attended. It was reported that the examination for warden would be held in December."
Canon Evans-Prosser continues. "After a few months of these, we were ready to take the exam that would earn us a certificate if we passed. Part of the exam entailed putting on a gas mask and spending a few minutes in a rather fearsome contraption called a gas van. When we had passed, we were given with the certificate a large badge to represent our status as Wardens. There were grades of pass, the top ones enabled the holder to give lectures on the subject if asked.
Meanwhile all the inhabitants down to the youngest were fitted for gas masks. There were special ones for babies and it was a job getting some of the babies to agree to being fitted."
The Parish Council minutes from 13th February 1939 concludes with "it was reported that the examination for Air Raid Wardens was held on December 19th 1938 and that all the candidates, numbering 18, had passed and received certificates and badges."
Canon Evans-Prosser continues. "When the war actually began, the Air Raid Wardens were expected to patrol the highways and byways looking presumably for any ferocious specimens of the enemy that might be impertinent enough to land in Norton. The village was portioned off between us and we went about in pairs. The whole thing had a faintly ridiculous air about it and after a few months of non-encounter with the enemy it was called off officially. Yet it is important for the younger generation to know that all through the war there was a possibility that this country might be invaded. We did not know then that Hitler gave up the idea quite early in the war."
The Parish Magazine of March 1972 contained a short note about Air Raid Wardens reproducing a roster notice of who was due on duty during September 1939;
"Roster Duty until further notice. 9th September 1939
Mr & Mrs J Boodle, September 9th, 12th, 15th, 18th
Mr & Mrs H A Cook, same dates
Mrs Price and Rev Evans-Prosser, September 10th, 13th, 16th, 19th
Miss Cook and Mrs F Bridge, same dates
Miss Mullens & Miss Perrett, September 11th, 14th, 17th, 20th
Mr & Mrs Hadley, same dates
Wardens are at liberty to change amongst themselves in the matter of dates of duty or otherwise, but notice of such change to be sent in writing to Mr H A Cook.
Signd. H A Cook."
Canon Evans-Prosser added that "This imposing programme refers to the nights when we trudged the lanes of Norton looking for Germans, bombs, aeroplanes and other unconsidered trifles. It must be admitted that we did not find any."
Canon Evans-Prosser. "As I had one of the Warden's Posts, I spent months sleeping on the couch in my study in order to be near the telephone in case something untoward happened. One midnight I was awakened by a terrific banging on the window. I went to the door and was told that bombs had fallen on the meadows and was asked what we were supposed to do about it. As it was absolutely pitch dark, we made up our minds that it was quite useless to try and look for them. The next morning we were informed that the bombs had fallen at The Leigh and not here. A large hole had been made in Mr Hall's garden at Leigh House and the windows were shattered covering Mr & Mrs Hall with glass. Also some cattle were killed. Until about 1944 we had a rota of firewatchers to look out for incendiary bombs falling on buildings and haystacks. There used to be two of us at a time on duty at the school throughout the night."
Roger Stubbs remembers the air raid sirens in the village :- "When the air raid sirens sounded we would run to various houses in the village to which we had been allocated where we stayed until the all clear was sounded. My shelter was at the Post Office which was run by Miss Goulter. I would dive under the counter and sit under the stairs. When the all clear sounded we returned to school. Mr Perrett always sent us home immediately as he had a fear the school would be bombed. On one occasion I was making my way home along the main road towards Gloucester when a German bomber flew over so low I could clearly see the crew and the German markings on the aircraft".
WWII – INVASION COMMITEE
Canon Evans-Prosser continues. "Then there was the Invasion Committee made up of Captain Walker, Chairman, KFEP Vice ditto, Mr & Mrs Clinton Phelps, Mr H A Cook, Mr & Mrs Jack Boodle, Mrs M E T Bridge, Miss F E Mullens, Mr Bailey, Mr C O J Perrett, Mr Plummer (Court Head Gardener) and Lieut Parker from Churchdown. Mrs C D Phelps was Head Housewife and Miss Mullens, Food Organiser. Being a small place we had to double some of our parts eg Mr H A Cook was Head Warden and Head Fire Guard and I was his deputy for both. We had two Control Points, Warden's Centres and Rest Centres. The first two of these were at Norton Court and Norton Vicarage and the third at Norton School and Norton Court. These last were under Mrs G N Walker and Mrs C E Price who were also over the other women's affairs."
By the time of the Parish Council meeting of 2nd September 1941 everyone in the village was fully occupied with war duties and it was recorded that "The Chairman had received a letter from the Clerk to the Rural District Council regarding the establishment of a Parish Defence Committee. After some discussion it was decided to reply that all available personnel were already absorbed in various Civil Defence units such as the Home Guard, ARP, fire watchers, special constables, WVS and Rest Centre organisation and there was overlapping."
Canon Evans-Prosser continues. "Then there were the first aid classes. The lecturer for these also came from the other side of the river and had to be taken home after each class. I well remember having to do this on occasion and crossing the temporary wooden bridge at Maisemore. None of the post-war car drivers have any idea how difficult it was to drive at night during the war. All headlights had to be covered with a metal mask with narrow slits in it and little was the light that came through them. To make things worse, the tops of all the signposts were take off so that no parachuting German could find his way. How we got along in those conditions and kept our cars from going into ditches is anyone's guess, yet there were few accidents. For years the signpost at the top of the lane was topless and the old milestone on the main road rendered impossible to read. One of the features of the wartime set-up was the Youth Squad which was run by the County Education Committee who asked me to take charge of our village squad. This included all the boys and girls from about 12 to 15. It provided us with not a little free excitement and not a little argument especially over the collection of waste paper. Several of those boys now hold quite important posts up and down the country. Before long, the boys wanted me to start a Scout Troop here as I had been a Scoutmaster in other places but there were not enough of them to make a viable troop. They did however provide me with no less than 12 servers at our church. The County provided the members of the Youth Squad with metal badges and the Messengers with a cardboard one headed Public Assistance Dept. We had our local Dad's Army though it was bigger than the one on TV. There were 45 men in it and its headquarters were at Twigworth Vicarage. Besides this we had 12 Air Raid Wardens, 8 messengers, and 15 Fire Guards. In addition we had 3 special police. Of equipment, we had 3 tractors, 2 motor lorries, 15 cars, 20 farm carts &c and 4 handcarts. There was also a Labour Squad of 12 for digging trenches and blocking roads under the control of Mr H E Bailey, the Estate Foreman."
WWII – SCRAP METAL DUMPS
As a contribution to the 'war effort' people were asked to save all sorts of things for recycling. Amongst these items were any scrap metal, reportedly to be reused in the construction of aircraft. The Parish Council minutes from 12th June 1940 record that "A special meeting of the Council … was called at the request of the Rural District Council particularly to organise the setting up of scrap metal dumps in the parish to assist the National War Effort. The clerk read letters on the urgency of the scheme from the Rural District Council and the Ministry of Supply. Mr H A Cook was appointed lead organiser and it was decided that dumps should be situated in various parts of the parish, near the church, Norton Garage, W James' premises and at Hill Farm." This continued in the minutes from 6th February 1941; "Mr H A Cook had received a letter from the Ministry of Supply saying they would clear the scrap metal dumps at Norton as soon as transport was available." It was only much later, well after the war had ended, that it was realised that almost none of the collected metal ever made it to the aircraft factories.
WWII - TROOPS IN THE VILLAGE
Another impact that the war had in Norton was the arrival of military personnel and camps around the village. Canon Evans-Prosser continues. "One afternoon Mr Marks, then vicar of The Leigh, was having tea in this house [the Vicarage] when through the drawing room window we beheld some mysterious vehicles crossing a field on the other side of the A38. We thought the Germans had arrived. I went over to investigate and found not Germans but an anti-aircraft unit. So a gun site was established, manned at first by a unit made up of men from Lloyds in London. One of these was a solicitor in private life, was an excellent organist and played for us at church. The unit did not stay very long and another came which also provided us with an organist. This chap found our pedals so narrow that he used to play them in his stockinged feet. I was made Officiating Chaplain to the Forces and used to go to the camp to take services. I still have my official armband that came almost too late to be used. One unit arrived just before Easter and they were asked whether they would like to have a service on the site or come to our church service. They all opted for the church one, so many did that some could not be allowed to go because of the need for camp chores to be done. Anyway, 100 or so came to church and owing to the limited accommodation we had to squeeze them in on one side and the parishioners on the other. Between them we had a huge number of communicants. The following day I went over to the camp to walk about at large and talk to any men I met. The first two I came across, who looked regular toughs, told me how glad the men were to have a chance of going to a proper church service and of being at our sung Eucharist. Believe it or not, they further said that what the men had liked most was seeing our boys in the choir with their surplices and cassocks. "You know Sir", said one of them, "most of the men in this unit were at one time choir boys but have drifted away from church for one reason or another but never because they really wished to do so. One unit winged a German plane that passed over Norton. I was standing on the Vicarage lawn when I saw a German plane flying low over the church and heading south. The guns opened out and got him but did not bring him down but did enough damage to it to get it hit down towards Bristol. I still have some shrapnel that fell on the lawn in this episode. The same day, shortly afterwards, I saw another German plane heading north east over the cover next door. It flew so low that I could plainly see the pilot and the swastika on the plane. At that moment a meeting was being held in the Reading Room for some purpose or other but I can no longer remember whether those at it heard the plane or not. For a short while we also had a small searchlight unit in the village." This unit was made up of soldiers from the Royal Artillery and was located in Smithfield close to Yew Tree Farm.
The war also brought American troops to the village. At the Parish Council meeting of 15th September 1942 it was recorded that "Mr Cook spoke of the dangers to civilians using the lane to Wainlode from USA Army vehicles and asked if the Clerk could write to the County Council pointing out the danger and asking for a speed limit of 15 miles per hour to be imposed and aboard giving warning to that effect to be erected at the top of the lane." This was not a false warning as Mr Wilkins of No 3 Cold Elm Cottages was later killed as a result of injuries he received in an accident with an American military vehicle in the village.
Tony Bradshaw remembers the Americans in the village :- "They camped at Spring Orchard and in 1943 began to construct floating pontoon bridges over the river at Wainlode, near to the landing stage down towards the river Chelt. Later they built more sturdy Bailey bridges. Bridges would go up and down quite quickly as during their construction all river transport was temporarily halted. Later they would concentrate on building smaller bridges over the River Chelt at Fletchers Leap to prepare themselves for all of the small rivers they would need to cross in France etc. There was little bridging machinery present and most of the work was constructed by man-handling the pieces into place and at one time they had a 'Weasel' at Wainlode. The Americans also worked on strengthening the foundations of what was then the new by-pass around the village so that it could take the weight of their large trucks. Leading up to D-Day there was a huge build up of military traffic, as the main road was closed this was diverted through the village along the old road. On one occasion a tank transporter overturned and deposited a tank into the ridge and furrow field. On D-Day itself there was a large convoy that went along the new by-pass and a fire started in one truck."
In his story of the 'Old Road' at Norton that we included in The Journal a few years ago Dennis Williams included the following quote :- "The Italian prisoners of war during the Second World War rebuilt the damaged main road. They used American road building equipment which was a revelation as we had never seen bulldozers and such heavy trucks. There were also Italian prisoners put to work on the local farms, they wore British army battle dress which had been dyed dark blue with brown circles on the back". (Bobby Phelps).
WWII – FOOD SHORTAGES
As the war progressed food shortages were to become a problem and rationing was introduced. This was also recognised as likely prior to the war and as early as 8th May 1939 the Parish Council minutes record that "In view of the urgent need to grow more food the Council discussed what measures could be taken to ensure that all gardens should be properly cultivated and put into a fully productive state. The Chairman advocates that a small Committee should inspect all gardens in the parish and point out to the owners the need for a maximum production scheme. Mr Bailey thought many gardens would not be very tidy at the present time but all owners would cultivate them properly when the weather improved. Mr A J Cook and W James endorsed this opinion; the latter remarking that Norton soil was too wet to be dug early in the season. It was decided that the Chairman and Clerk should write to the War Agricultural Committee regarding two derelict gardens, namely the piece of ground where formerly a burnt out cottage stood on the old high road and an acre (approximately) of garden surrounding a vacant cottage at World's End, both of which ought to produce a large amount of food. This theme continued in the minutes from 31st March 1941. "A letter had been received by the Clerk from the War Agricultural Executive Committee stating they had no powers to compel occupiers of private gardens under ¼ acre to cultivate them but probably the Committee could take some action in cases where gardens were derelict if some other person was prepared to take over and cultivate them. The Council agreed to make it known in the parish that if any persons desired to cultivate these derelict gardens, the Council would do what they could to make this possible." At a meeting of the Norton Parish Defence Council on 8th April 1942 it was minuted "to ask Miss Mullens to act as Food Officer and suggestions were made as to the best way to warn householders to keep a store of food to use if the parish is isolated. After some discussion it was decided that the WVS Committee should make a house to house visitation distributing written warnings." On the 10th June 1942 at another meeting of the Norton Parish Defence Council it was recorded that "Miss Mullens had had an interview with Mrs Knight, Food Officer for the Rural District Council, who told her no-one had been appointed to succeed Major Perry up to date and also that the task of feeding the civil population in time of emergency had been carefully worked out by his Committee."
WWII - PARISH DEFENCE COUNCIL
The story of the war in the village can also be retold from the minutes of the Parish Defence Council that was later named the Invasion Committee.
30 March 1942 - "The Chairman, Capt G N Walker, gave a full report of the Conference he had attended. He stated that it was the opinion of people in authority that invasion, or attempted invasion, was certain. Defence Committees must be prepared for airborne landings of the enemy and co-ordination and co-operation of all the defence services is very necessary and such members of the Committee must appoint a deputy in the case of long hours on duty or becoming casualties.
Labour squads (for trench digging and similar defence works) to be organised and tools for their use kept in a suitable place. Also road mending squads to be arranged in advance. The Rev Evans-Prosser attended the meeting and undertook to arrange for members of the Youth Squad to act as messengers. Mrs G N Walker explained the workings of the Housewives Service which would function in emergencies. It was agreed to find out details of personnel of Defence Committees of adjoining parishes. It was suggested that the Reading Room and Chapel should be the Headquarters of the Committee."
8 April 1942 - "Capt Walker spoke of the need for each member of the Committee to have one or more deputies and the following names were submitted :-
Chairman Capt Walker Deputy Mr H Bailey
Billeting & Welfare of Evacuees Mrs G N Walker Deputy Mrs Price & Mrs Boodle
O Perrett Deputy Jack Boodle
H Cook Deputy Rev Evans-Prosser & Jim Boodle
Mrs Bridge Deputy Miss Mullens
Mr H Bailey to organise labour squads and collect tools etc. Mrs G N Walker spoke of the need to organise fully the Housewives Service. Those undertaking this work would be required to attend a lecture explaining the duties expected of them. The Clerk was requested to write to Lieut Virgo [Home Guard] advising him where the Parish Defence Committee Headquarters are."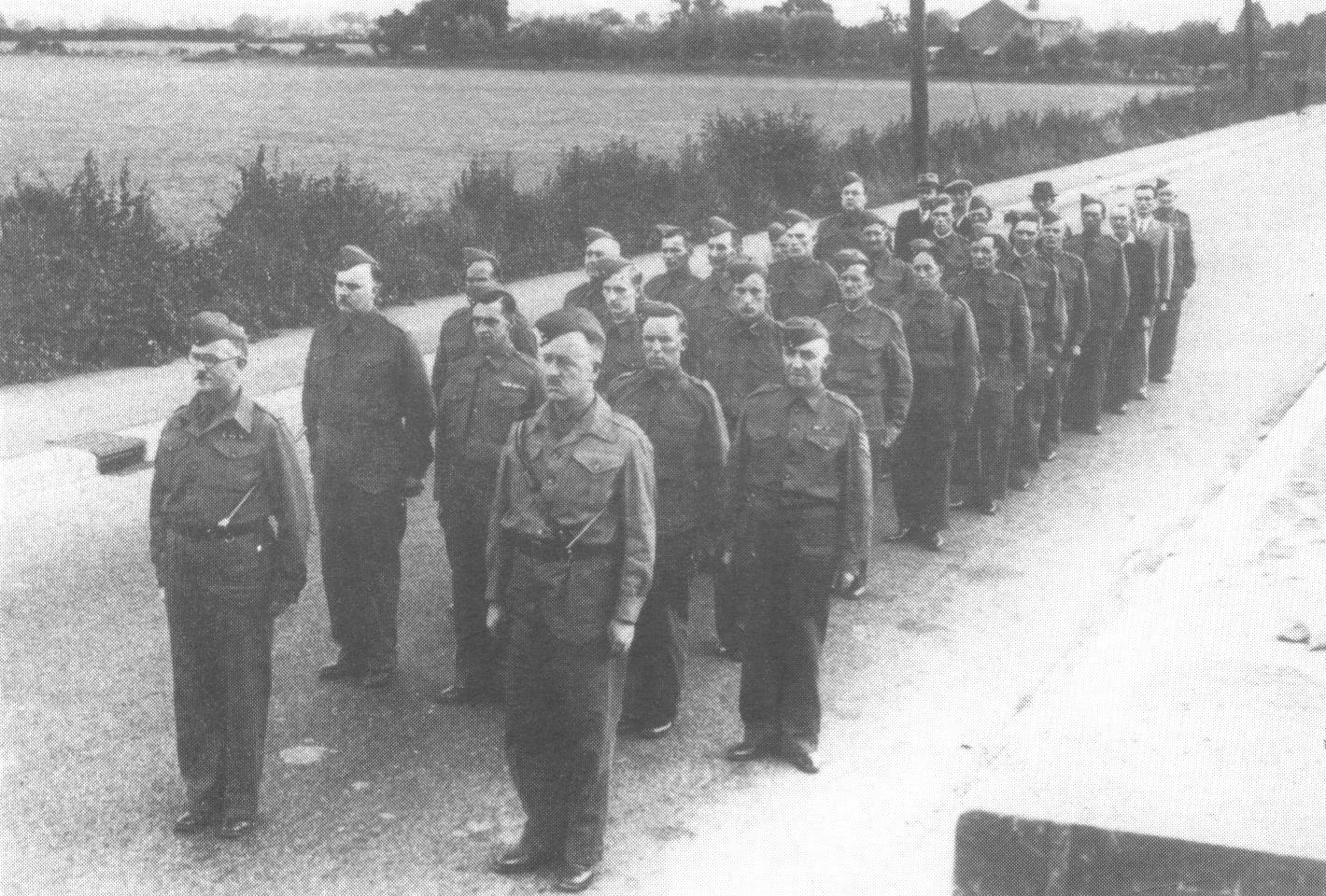 The Home Guard HQ were at Twigworth where this photograph was taken.
11 May 1942 - "The Chairman gave a report of a meeting he had attended. Norton is now in the Churchdown area and Major Donald Magill is the Military Commander of the district. Dr Cowan spoke of the care and the welfare of the injured and said as far as possible civilians must be prepared to help themselves and each other. The County would not provide any funds or equipment for first aid. The Red Cross or St John's Ambulance Brigade might assist. Mrs Clinton Phelps had consented to act as Head Housewife for the parish and simple lectures on anti-gas and first aid were being arranged in the village. It was announced that Lt Parker, B Company, Home Guard, had been appointed Intelligence and Liaison Officer between Parish Defence Committees and the Military Command."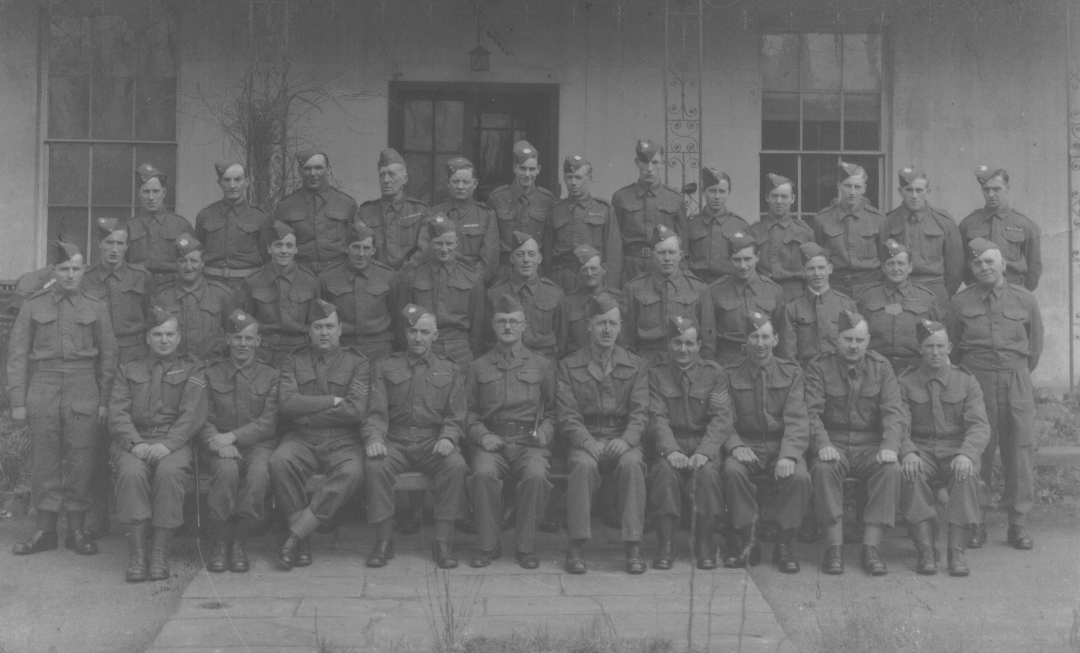 Home Guard
10 June 1942 - "R H E Bailey had compiled a list of tools and where they are to be kept and also a list of volunteers to carry out any work necessary in an emergency.
The Military Authorities had notified the Committee that in the event of heavy raids or invasion it might be necessary to remove livestock to a safer place and owners must be prepared to co-operate. Capt Walker spoke of the use of telephone in time of emergency (if operating) and said he would ask Mr Spiers if the Committee could use his (the nearest to Headquarters) if it was necessary."
11 September 1942 – "The Chairman drew attention to the alteration in the name of the Committee; in future the Committee would be known as Invasion instead of Defence Committee. The Chairman had received a letter regarding providing slit trenches by households to shelter the civil population. Lt Parker (Intelligence Officer) said these instructions were necessary in built-up areas but in rural districts they were not so necessary."
WWII - THE ENEMY IN THE VILLAGE
The minutes of the Norton Parish Defence Council, later the Invasion Committee, contain the following references :-
10 June 1942 – "The Chairman and Vice-Chairman had recently attended a meeting regarding the preparation of the district for an exercise to take place in the City and Rural Districts at a future date (Secret). Test incidents would be put to each Invasion Committee."
15 September 1942 – "The Chairman spoke of the test question received and dealt with on Sunday, September 13th, and also the call to Action Stations for Wardens, Messengers and Fire Guards which took place at 10:45 on Sunday, September 13th and spoke of the convenience of the Court as Headquarters with telephone installed and accommodation for the messengers to wait. In future Norton Court should be the Headquarters of the Invasion Committee with the Vicarage as a subsidiary point."
The following provides an account of one such exercise.
"Ten messengers on duty, 9 boys, 1 girl, average age 14. Although a rota was arranged nearly all insisted on being on duty for the duration of the exercise. All were very quick off the mark and efficient.
FIRST DAY. Two messengers stationed at Combined Invasion HQ and Warden's Post. Rest worked from Reserve ditto (for greater ease of working). One messenger sent every hour from 15:00 to 20:00 and also at 19:30hrs to Military HQ at Twigworth. One messenger sent three times to military stationed in village. On opening of Rest Centre at 17:30 two messengers were stationed there. Messengers were tested in quick donning of respirators and in riding bicycles over a distance with respirators on. Messengers were used to watch aircraft, keep on look-out for the enemy and to take any information to Chairman of the Invasion Committee and Senior Warden. Information also sent by telephone.
SECOND DAY. Enemy in the village in the morning. Much useful information gathered by messengers and sent on to proper quarters by messenger and telephone. Messenger sent to Military HQ at 11:00hrs. Shortly afterwards the Liaison Officer on his way there was turned back the Home Guard and told it was useless to proceed. Therefore it was assumed that Twigworth was occupied by the enemy and so no more messengers were sent over there until towards the end of the exercise.
COMMENT. Exercise would have been more realistic and perhaps more useful if the enemy had attempted to intercept and question or hold messengers passing them or crossing enemy lines. Signed :- K F Evans-Prosser, Communications Officer, Deputy Chairman of Invasion Committee, Deputy Senior Warden".
WWII – EVACUEES FROM THE CITIES
When war finally came, the major cities and industrial centres were to suffer greatly from bombing. This was recognised even before the war started and preparations were made for the evacuation of children to the countryside for their safety.
The Rural District Council wrote to the Parish Council as early as the 11th January 1939 with details of the Government Evacuation Scheme. Briefly it said; "The Council have been requested by the Government to co-operate in plans which are being made for the protection of civil life in the event of war by the transfer of children and other persons from crowded cities to homes in less dangerous areas. The Government has asked each Local Authority to ascertain what housing accommodation would be available in the case of emergency and what homes would be suitable for children who would be given the means of leaving large cities."
The Parish Council minutes from 8th May 1939 later record that another letter "…had been received from the Rural District Council advising the immediate appointment of an Assistant Billeting and Reception Officer and Committee to deal with the arrangements for the billeting of evacuees from danger zones who would be allocated to the parish in this event of war. The clerk was appointed Assistant Billeting and Reception Officer, the Committee to consist of the Parish Council, Mrs Norton Walker and Committee of the local branch of the Women's Voluntary Service (6 in number) and also the Rev K F Evans Prosser and W Perrett."
On 3rd July 1939 the Rural District Council wrote again thanking the Parish Council for "…the information respecting the evacuated persons to be received in the Parish of Norton…" and enclosing a schedule of arrangements. The schedule listed those households who had agreed to receive evacuees and, in most cases, was annotated with the names of those to be accommodated.
"Receptionist Evacuees Names
Mrs Cook (The Court Farm) Mother and 2 children
Mrs Frank Bridge Mother and 1 child
Mrs J Boodle Mother and 1 child
Unaccompanied Children
Mrs Pitman 1 child Ray Richards
Mrs Cole 1 child Barry Southall
Mrs Shill 1 child Horace Smith
Mrs Maycock 2 children Henry Jenkins & Bert Jukes
Mrs Sparrow 1 child (girl) Dorothy & Edith Jenkins
Mrs Barnes 1 child (girl) Joyce Hughes
Mrs Phelps (Norton Villa) 1 child John Batt
Mrs Cobert 1 child Hilda Taberner
Mrs Spencer (Red Lion) 2 children John & Peter Doak and Dennis Walton"
The schedule went on to give details of the rations to cover a 48 hour period. Presumably these would be the rations that each evacuee would be bringing with them.
"Each Child; One can meat, Two cans of milk (one sweetened one unsweetened), One pound of biscuits (or two packets), Quarter pound of chocolate (or two 2d crisps)
Adult; Two cans of meat, Milk, Biscuits and Chocolate as above."
Each household who took in an evacuee was given a booklet stating; "In pursuance of the Defence Regulations, I hereby require you to receive the following children into the above-mentioned premises, and to provide them with board and lodging, and to care for them to the best of your ability until relieved of the obligation". The booklet, pictured below, was issued to Mrs Scrivens of Benges Cottage, Priors Norton, on 28th March 1940. It was authorising the payment of 10s 6d per week in respect of a Peter Doak to be collected from Norton Post Office. From the second page of the booklet we can see that the payment was only collected on two occasions; 29th March and 5th April 1940.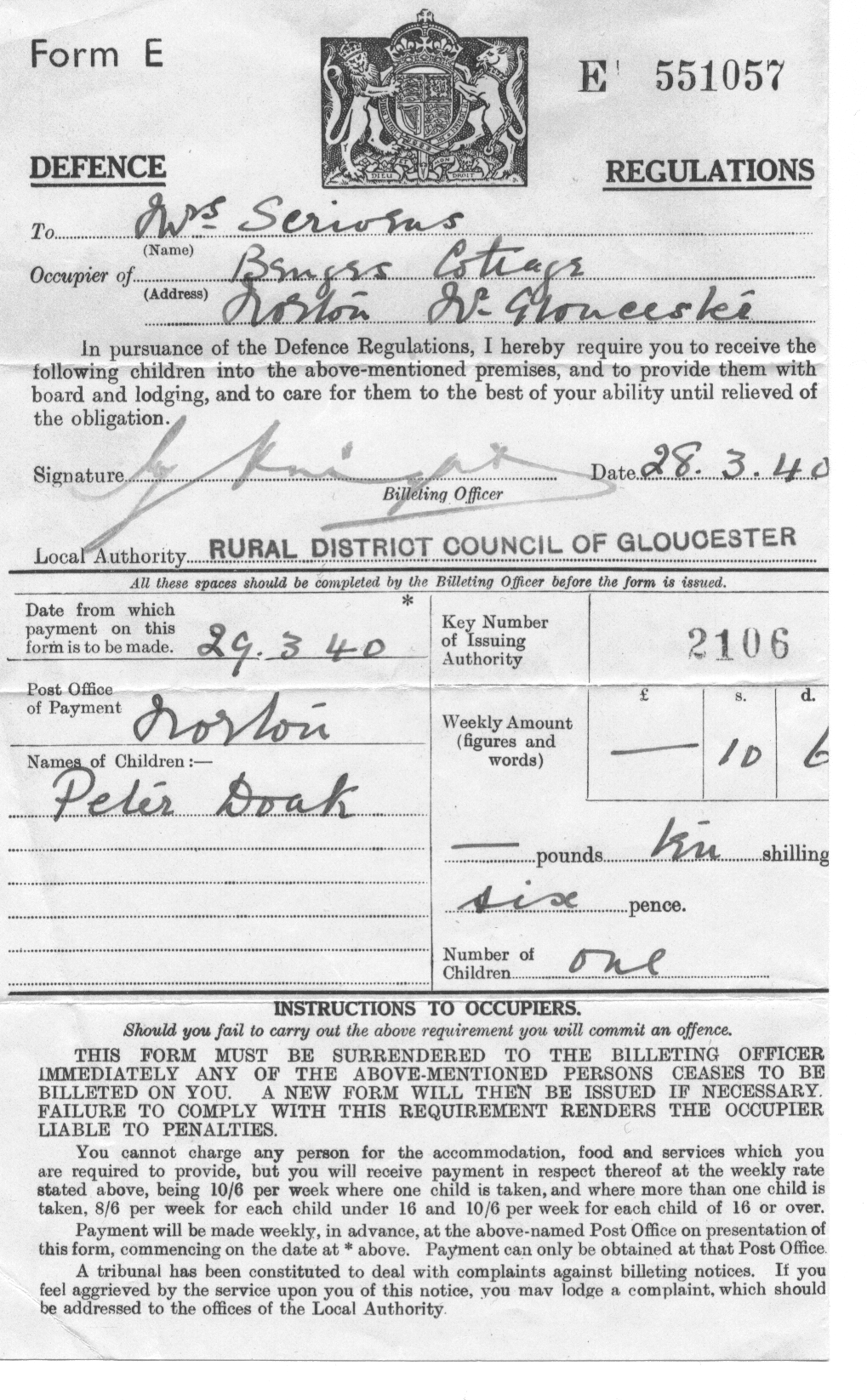 The Admission Register for Norton CofE School gives an indication of those children who came to the village during the Second World War as evacuees from the cities. It is not certain that the following were all evacuees but the evidence does suggest that is so. All of the following were admitted to the school on 11th September 1939 but not many of them appeared to have remained in the village, or at least at the school, for long.
Valerie and Keith Skinner came from Enfield and were lodging with Mr J Boodle of Elm House, Norton. They both returned to Enfield on 12 April 1940. Donald Trigg came from Smethwick and lodged with Mrs E Longney of Park Cottage, Norton. He returned to Smethwick just two weeks later on 28 September 1939. The following all came from Aston, Birmingham. John Doak lodged with Mr Pullin of Barn Farm, Norton. He returned to Birmingham on 16 October 1939. Peter Doak, most likely John's brother, lodged with Mr Spencer at The Red Lion Inn and remained a little longer, returning to Birmingham on 1 April 1940. Barry Southall lodged with Mr Coles at Tithe Barn Cottages, Norton, before returning to Birmingham on 10 October 1940. Ray Richards lodged with Mr Pitman of Wainlode Hill until he returned to Birmingham on 31 July 1941. Dennis Walton and John Batt lodged with Mr Phelps at Norton Villa before returning to Birmingham, Dennis on 6 September 1939 and John on 16 February 1940. It is not clear what actually happened here with the dates indicating that Dennis had returned to Birmingham before he was actually admitted to the school. Perhaps Mr Phelps took in John Batt instead of Dennis Walton. The school Log Books elaborate a little on the story for Dennis suggesting that the date was probably an error. On the 6th October 1939 the Log Book records "Mrs Scrivens called to say that Dennis Walton (an evacuee) was returning to Birmingham on Sunday. His father was coming to fetch him. I sent for Mrs Bridge who is the BO [Billeting Officer] for Norton and she was going to communicate with the Chief BO for Gloucester Rural District. Miss Scrivens was sent a notice from Mrs Bridge in the afternoon giving her the necessary information".
Horace Smith lodged with Mr Steel of Norton Green until returning to Birmingham on 19 November 1939. Bertie Jukes and Henry Jenkins lodged with Mr Maycock who was head gardener at Norton Court and lived at The Gardens. Bertie returned to Birmingham on 6 September 1939. Again, it is not clear what actually happened here with the dates indicating that Bertie too had returned to Birmingham before he was actually admitted to the school and perhaps Mr Maycock also took in Henry Jenkins instead of Bertie. It is not known when Henry returned home as he left Norton School to progress to Longlevens School on 1 August 1940. Joyce Hughes lodged with Mr Barnes at Fair View, Norton, before returning to Birmingham on 21 March 1940. Hilda Taberner lodged with Mr Colbert at Cold Elm. It is not known when Hilda returned home as she transferred to Longlevens School on 31 July 1941. Edith Jenkins lodged with Mr Sparrow at Norton Court Garages. She did not return to Birmingham but moved on to Newport on 9 May 1941.
Also admitted to the school on 11th September 1939 were Richard and Robert Hopkins. Their mother Madge (nee Mullens) had grown up in the village and they came here from Twickenham to stay with their aunt Fanny Mullens at Green Corners. Unfortunately Robbie was to die as the result of measles whilst at Norton and Richard returned to live with his family at Twickenham on 14 December 1939.
The following year we also find four likely evacuee admittances for 30th September 1940. Ronald and Daphne Prowse came here from Ealing and lodged with Mr C Phelps before returning to London, no date given. Elva and James Parker came from Battersea and lodged with Mr G Griffiths moving to The Leigh School on 11 December 1940.
Throughout the war there were several other possible evacuees who were admitted to Norton School.
[ I am currently in correspondence with The British Evacuees Association with a view to trying to find out information about Norton evacuees after the war. They may be going to use the above article in their magazine 'The Evacuee' which is sent out to all 1300 members worldwide. The magazine is a 16 page bi-monthly publication full of members stories and photographs, articles of interest, news of future events and a 'Lost Touch' section. In addition to their magazine they also have an informative and interesting website; http://www.evacuees.org.uk/ ]