ADDITIONAL SOLDIERS
Research has identified a further eight men with Norton connections who are not remembered on the village War Memorial but who were killed during the Great War; John Reginald Cooling, Gilbert Charles Davis, Frederick Melville Draper, Arthur Frederick Freeman, Ernest James, Samuel Ernest Leach, Cecil Wyatt Mason and Eustace Joseph Nash. September 1915 proved to be a particularly bad month with three of these men being killed in action, most likely the same action, on consecutive days.
JOHN REGINALD COOLING
John was born at Norton in 1889 and was the son of Phillip and Hannah Cooling who in 1891 were living near Court Farm. In 1891 his name was given as Reginald but by 1901, when the family lived at a cottage 'near Norton Mill', he had become John again. He enlisted at Cirencester as Private, No 243, in the 1st Battalion Gloucestershire Regiment. He died on Sunday 26th September 1915, aged 25 years, and is remembered on Panels 60-64 of the Loos Memorial, Pas de Calais, France.
GILBERT CHARLES DAVIS
Although not remembered on the Norton memorial Gilbert can be found on the War memorial inside the church at St Catherine's, The Leigh.
Gilbert was born at Norton in 1890 and was the son of Thomas Davis of Corse, and Emma Miranda, nee Hill, of Stinchcombe, who had married at Hartpury in 1874. In the early 1880s the family remained at Hartpury moving to Norton in the late 1880s. Their time here must have been brief as in 1891 the family were living at The Stalls, Taynton, with father Thomas employed as a farm servant. By 1901 the family had moved again and were living at The Bowlings, The Leigh. By 1911 father Thomas had died and Gilbert was living with his widowed mother at The Wharf Cottage, Coombe Hill, employed as a carpenter and wheelwright.
Gilbert enlisted at Cheltenham at which time he was still residing at Coombe Hill. Formerly No 23379, Gloucestershire Regiment, he died on 1st May 1918 in France & Flanders theatre whilst serving as Private, No 39458, in the 8th Battalion Princess Charlotte Of Wales (Royal Berkshire Regiment).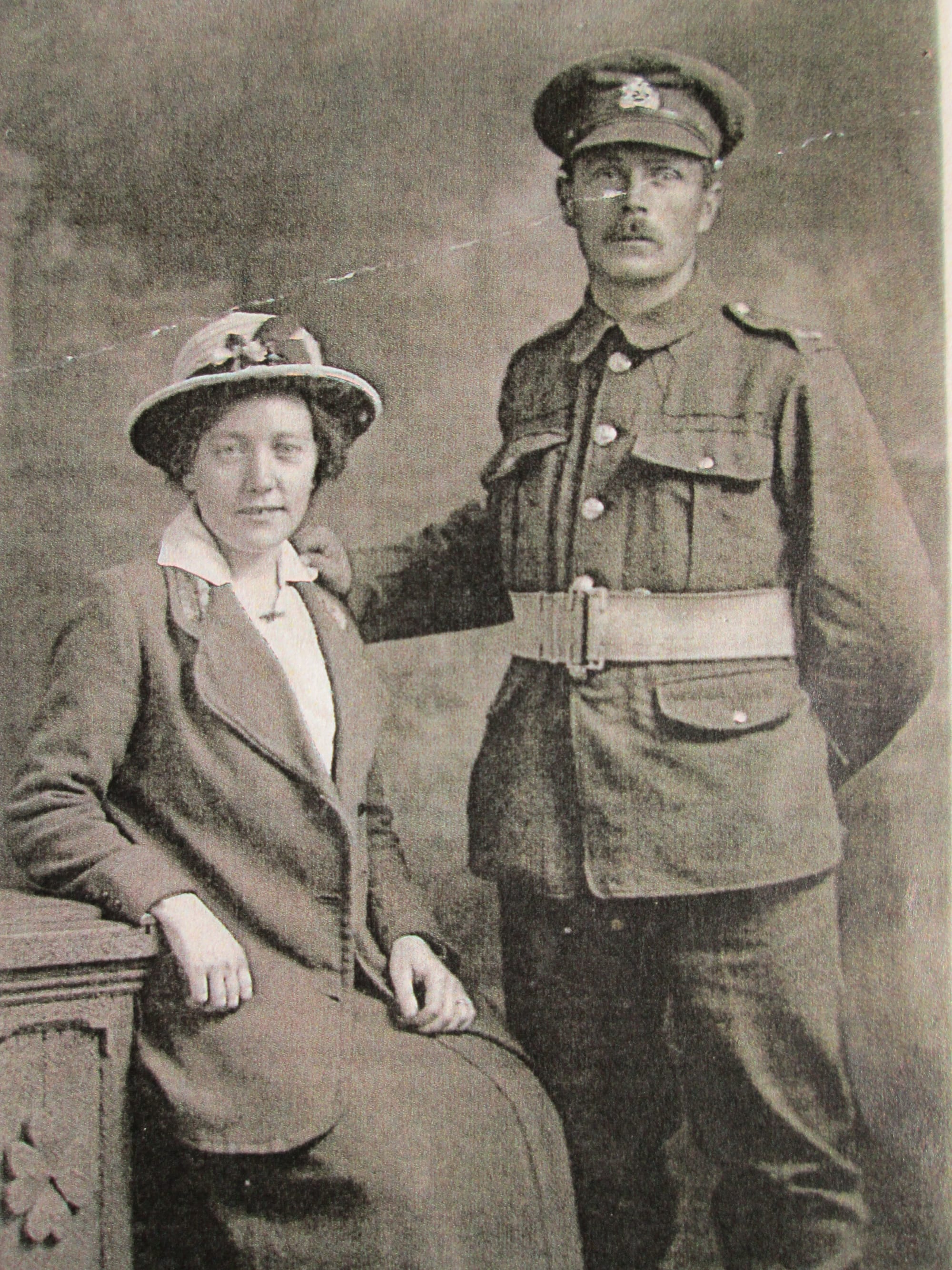 Gilbert Davis and his fiancé, Alice Vernall
Alice Elizabeth Vernall married Gilbert's elder brother, Henry James Davis, at St Lawrence, Sandhurst, in 1929.
Gilbert is buried at Grave British B1 at the Ribemont Communal Cemetery Extension, Aisne.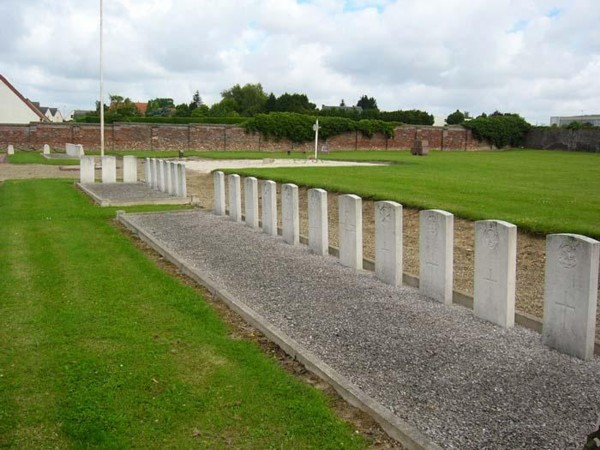 Ribemont Communal Cemetery Extension, Aisne, France.
Ribemont in the Department of the Aisne (there is also a Ribemont in the Department of the Somme), is a village 14 kilometres South-East of St. Quentin, adjacent to the Canal de Sambre. The Communal Cemetery was extended by the Germans, but the German graves, 320 in number, have been removed. There are now over 30, 1914-18 war casualties commemorated in this site, beyond the French Military plot, on the North-East side of the cemetery. Of these, a small number are unidentified and a special memorial is erected to a soldier believed to be buried among them.
FREDERICK MELVILLE DRAPER
Although not remembered on the Norton memorial Melville can be found on the War memorial inside the church at St Catherine's, The Leigh.
Frederick Melville Draper was born at Upton St Leonards in 1892 and was the son of Charles Frederick Draper of Sherborne and Selina Ann, nee Shillam, of Naunton, who had married at Headington, Oxon, in 1889. In 1901 the family were living at Ballinstone, Upton St Leonards, where father Charles was employed as a stone mason. By 1911 the family, now with eight children, had moved to Norton where they were living at Norton Villa with father Charles now giving his occupation as banker and mason and son Frederick was a student and pupil teacher. The family's time at Norton appears to have been brief before they moved to Wellcroft, The Leigh. At the outbreak of the First World War Melville, as he was known, was employed as assistant master at Bredon School. He enlisted as Private, No 240857 in the 1st/5th Battalion, Gloucestershire Regiment and was killed in action on 5th April 1917. He was originally buried at Lempire British Cemetery and reburied after the war. Lempire is a small village situated in the far, north-western, corner of the Department of the Aisne, 17 kilometres north-west of St Quentin. Lempire contained at one time a German prison camp; it was taken by British troops in April, 1917, and again (by the 18th Division) in September, 1918. There are now over 10, 1914-18 war casualties commemorated in this site. The seven R.F.A. graves made outside it at the end of September, 1918, have been removed to Unicorn Cemetery, Vend'huile. Melville is now buried at grave reference IF27, Unicorn Cemetery, Vendhuile, Aisne, France. Vendhuile is a village about 19 kilometres north of St Quentin and 24 kilometres south-east of Peronne. Unicorn Cemetery is about 3 kilometres south-west of Vendhuile on the west side of the road to the villages of Lempire and Ronssoy. Melville is also remembered on the family grave at Coombe Hill Methodist Chapel.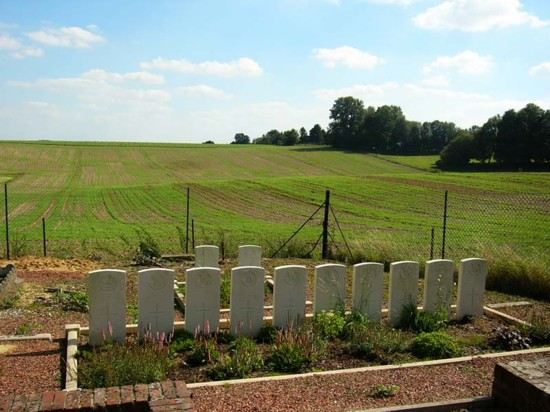 Lempire Communal Cemetery, Aisne, France
Vend'huile was very nearly reached in the Battle of Cambrai 1917. It was taken by the 27th and 30th American Divisions at the end of September 1918, and cleared by the 12th and 18th Divisions on 30 September. After the fight, men of the 18th Division were buried by the 50th (Northumbrian) Division in Plot I, Row A, of Unicorn Cemetery (the name is taken from the Divisional mark of the 50th Division).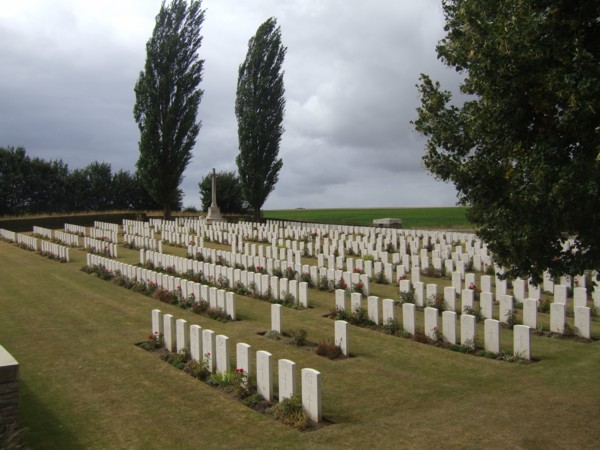 Unicorn Cemetery, Vend'huile, Aisne, France
The rest of the cemetery was formed after the Armistice when graves were brought in from isolated sites and small cemeteries of 1917 and 1918 in the surrounding battlefields. The cemetery now contains 1,008 burials and commemorations of the First World War. 409 of the burials are unidentified but there are special memorials to ten casualties known or believed to be buried among them. There are also special memorials to eight casualties buried in Lempire British Cemetery whose graves could not be found on concentration. The cemetery was designed by Charles Holden".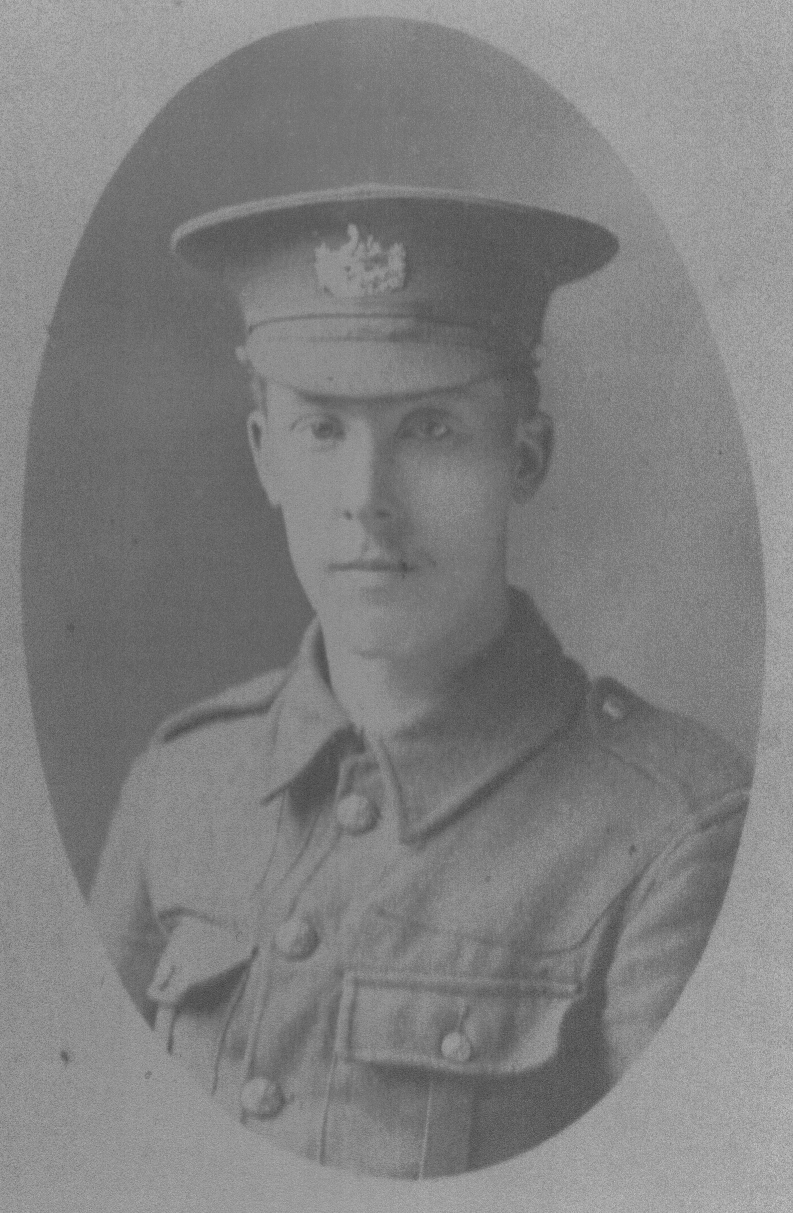 The following article appeared in a local newspaper but its source has not been identified; it was loaned along with the photograph of Melville by Mrs Hazel Green, his niece.
"Private M Draper, Gloucester Regiment, (son of Mr Charles Draper, Wellcroft, Leigh village, near Cheltenham, and formerly of Tuffley, Gloucester) was killed in action on April 5th during an attack on a village which in the end proved successful. In a letter to Mr Draper, Lieut Stanley says: "Your son was killed almost instantaneously. He was in charge of my Lewis gun section, and was one of the best men in the platoon. Chiefly owing to the efforts and gallantry of the 'old men' like him the attack was successful and several prisoners and a machine gun or two were captured. I shall miss him very much as I used to talk over with him experiences at Ypres where we had seen fighting. His section will miss their commander very much." Captain Conder (himself since wounded) also wrote expressing his deepest sympathy with Mr Draper in his loss, adding: "The conduct of your son throughout the proceedings was a fine example to the men under him, and his handling of his Lewis gun against one of the enemy's machine guns greatly helped towards the lessening of our own casualties and the success of the operations."
Pte Draper gained a scholarship to Sir T Rich's while at Whaddon School and later another scholarship to the Crypt School for five years. He entered the teaching profession, and at the outbreak of war was assistant master at Bredon School, near Tewkesbury. He joined up in September 1914. Deceased was 25 years of age.
ARTHUR FREDERICK FREEMAN
Arthur was born at Norton in approximately 1892, son of George and Elizabeth Freeman of Norton Green. He enlisted in Cheltenham as Private, No 13635, in the 10th (Service) Battalion, Gloucestershire Regiment. At the time of his enlistment his next of kin was his mother, who was living at 'Daisyville', Pirton Lane, Churchdown. Arthur was killed in action in France on 25 September 1915 and is remembered on Panels 60-64 of the Loos Memorial, Pas de Calais, France.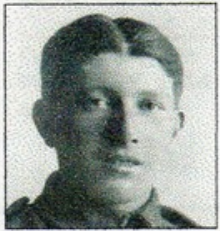 ERNEST JAMES
Ernest was apparently born at Norton but his parents have not been identified. He enlisted at Tewkesbury as Guardsman, No 15932, in the 4th Battalion Grenadier Guards. Ernest was killed in action in France on Monday 27th September 1915, aged 23 years. He is remembered on Panels 5-7 of the Loos Memorial, Pas de Calais, France.
Arthur Frederick Freeman, John Reginald Cooling and Ernest James are all remembered on the Loos Memorial. Loos-en-Gohelle is a village about 5km north west of Lens. The Loos Memorial forms the side and back of Dud Corner Cemetery where over 1700 officers and men are buried, the great majority of whom fell in the battle of Loos. Dud Corner Cemetery stands almost on the site of a German strong point, the Lens Road Redoubt, captured by the 15th (Scottish) Division on the first day of the battle. The name 'Dud Corner' is believed to be due to the large number of unexploded enemy shells found in the neighbourhood after the Armistice. The Loos Memorial commemorates over 20,000 officers and men who have no known grave, who fell in the area from the River Lys to the old southern boundary of the First Army, east and west of Grenay. On either side of the cemetery is a wall 15ft high to which are fixed tablets on which are carved the names of those commemorated. At the back are four small circular courts, open to the sky, in which the lines of tablets are continued, and between these courts are three semicircular walls or apses, two of which carry tablets, while on the centre apse is erected the Cross of Sacrifice.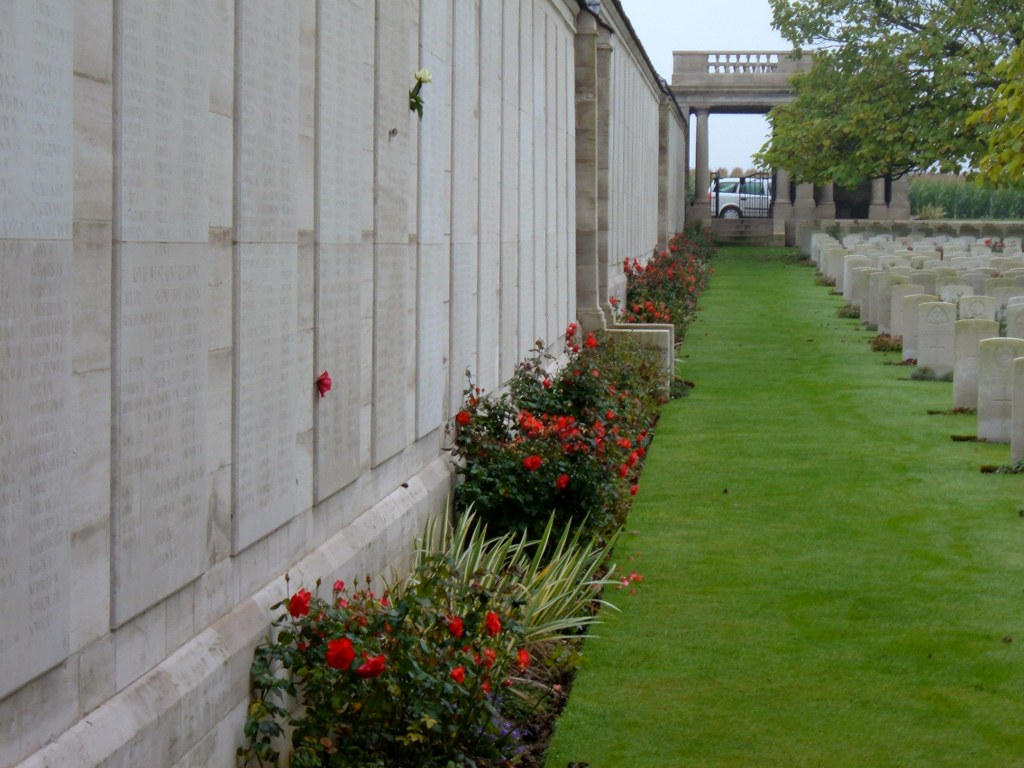 Loos Memorial, Pas de Calais, France
SAMUEL ERNEST LEACH
William Leach married Mary Ellen Williford, a servant girl of Norton, on 21 November 1869 at Norton. One of their children was Samuel Ernest Leach. Samuel was born late in 1871 at the time the family were away from Norton and living in the Kingsholm area of Gloucester although later Census' give his place of birth as Norton. The family were back at Norton and living at The Green by 1881. By 1891 the family had left Norton again and were living at No 26 Worrell Street in Gloucester, in the district of the city that was known as Clapham, roughly located between Kingsholm Road and Alvin Street. The majority of this area was demolished in the 1960s to make way for the flats that still stand there and the street plan has changed dramatically with Worrell Street disappearing altogether. By 1891, however, Samuel had left home and it is here that his military records enable us to continue this story.
Samuel enlisted into the Medical Staff Corps of the 3rd Gloucestershire Regiment at Bristol on 23 April 1890 aged 18 years and five months. His attestation papers record that he was a little over 5ft 3ins tall, weighed 128lbs, was of fresh complexion with grey eyes and brown hair. He was posted to Woolwich, London, where he qualified as a 'cold shoer' in 1894, presumably working with the regiment's horses. He also married in 1896, to Catherine Eleanour Collins and they lived at 64 Alice Street, Tidal Basin, Canning Town, where they were to have 7 children over the coming years. Samuel ended his active army service in 1896 being transferred to the reserve. In October 1899, however, he was recalled 'under special army order' and on 9 November 1899 was dispatched to South Africa to fight in the Boer War. He returned home in September 1900 and was discharged again in June 1902 with the entitlement to wear the South African Medal. Samuel continued to serve in Section D of the 1st Class Army Reserve until he was finally discharged upon termination of his engagement at Woolwich Dockyard on 19 March 1907. Samuel must have thought that his time in uniform was over but the First World War was just around the corner.
Little is known of Samuel's service in World War I but at his age I would have thought he must have volunteered for service rather than have been conscripted. He served as No T1/SR/83, Driver S E Leach, in the Army Service Corps attached to the 10th Cavalry Mobile Veterinary Section and found himself in the Lebanon in 1918. Lebanon was taken from the Turks in 1918 and Beirut was occupied by the 7th (Meerut) Division on 8 October 1918 and the 15th and 32nd Combined Clearing Hospitals were sent to the town; it is possible that Samuel was with one of these. The cause is not known but Samuel was unfortunately to die on 16 October 1918 and is now remembered 'with honour' at the Beirut War Cemetery.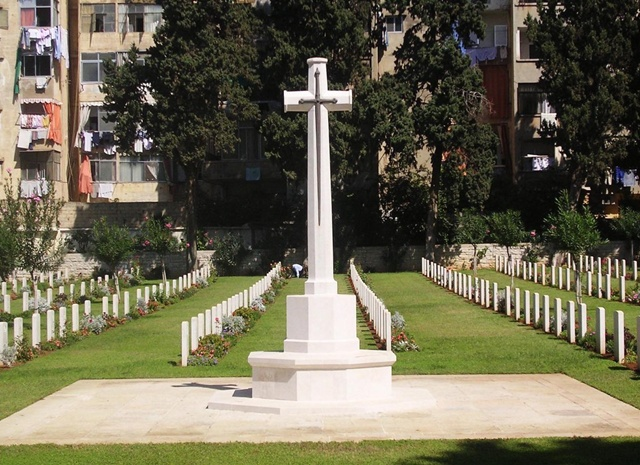 Beirut War Cemetery, Lebanese Republic
I have met and corresponded with descendants of Samuel who still occasionally visit Norton and St Mary's. In November 2019 a note was found in the visitor's book at the church; "Remember Samuel Leach born in Norton, baptised at this church, died October 1918 in Lebanon aged 43 years, FIGHTING FOR KING AND COUNTRY, REMEMBERED BY HIS GRANDDAUGHTERS AND HIS GREAT GRANDDAUGHTERS". I hope that by including this here he will be remembered.
CECIL WYATT MASON
Cecil was born at St Andrews, Fife, Scotland, in approximately 1889 and was the son of David and Eliza (nee Stubbs). Eliza had grown up at Norton but by the time of Cecil's birth she had married and they were living in Scotland employed as the keepers of the Golf Hotel at St Andrews. Cecil served as a 2nd Lieutenant in the 11th Battalion, Royal Scots (Lothian) Regiment. He was killed in action on 8th April 1917, aged 28 years, and is buried at Plot 1, Row E, Grave 11, St Nicholas' British Cemetery, Arras, France.
St Catherine and St Nicholas are villages and districts in the Department of the Pas-de-Calais and adjoining the city of Arras on the north side. St Catherine lying to the west and St Nicholas to the east of the N37 road to La Targette and Souchez. St Nicholas British Cemetery is on the Rue d'Enfer which joins the road to Roclincourt. Cecil is remembered on the 16th Queens Lancers memorial at Canterbury Cathedral and also on his mothers headstone at St Mary's, Norton; "In loving memory of Eliza Stubbs widow of David Mason entered into rest March 29th 1930 aged 74 years. Also her son Cecil, 2nd Lieut 11th Royal Scots killed in action April 8th 1917 aged 28 years and lies at St Nicholas cemetery Arras France".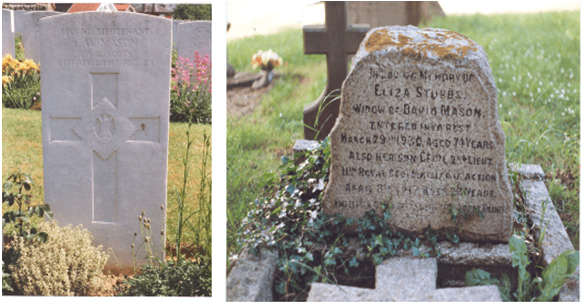 EUSTACE JOSEPH NASH
Eustace was born at Norton in 1890, son of William Nash and Eliza nee Wakefield of the Blacksmiths Cottage, Cold Elm.
On 24 May 1907 he attested at Gloucester for a period of 6 years as a militiaman in the 3rd Battalion, Gloucestershire Regiment Militia, as Private No 8637. Prior to his attestation he was working as a bricklayers labourer in the employ of Mr Freeman of Norton. Eustace gave his age as 18 years, 5 months, although this would make him at least one year older than it appears from birth registration. On 24 May 1907 he underwent a medical examination at Gloucester at which he was declared fit for the militia. He was 5ft 8¾ ins tall, weighed 128 lbs, with 35 ½ ins chest, had a fresh complexion, hazel eyes and brown hair.
With the outbreak of the First World War, Eustace re-enlisted at Bristol as Gunner, No 47443, in the Royal Horse Artillery and Royal Field Artillery. At the time of his death he was a Corporal serving with 'Z' 74th Trench Mortar Battery, Royal Field Artillery. He died in Egypt on 31st December 1917 and is remembered on Panel F162 at the Alexandria (Hadra) War Memorial Cemetery, Egypt.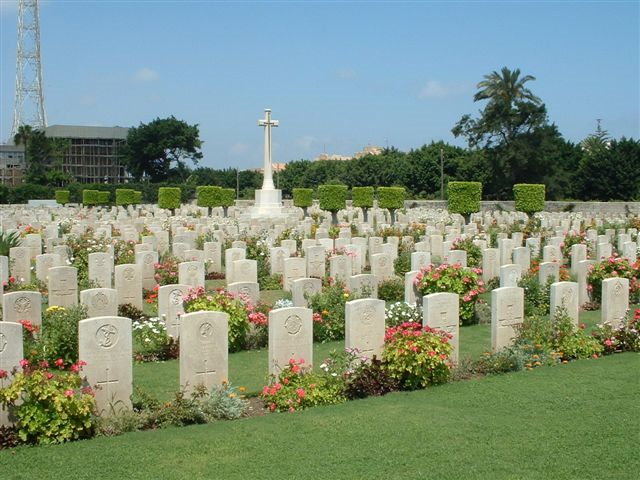 Alexandria (Hadra) War Memorial Cemetery, Alexandria, Egypt
Hadra is a district on the eastern side of Alexandria and is south of the main carriageway to Aboukir, known as Al Horaya, near the University of Alexandria. The cemetery is on the road Sharia Manara. In March 1915 the base of the Mediterranean Expeditionary Force was transferred to Alexandria from Mudros and the city became a camp and hospital centre for Commonwealth and French troops. Among the medical units established there were the 17th, 19th, 21st, 78th and 87th General Hospitals and No 5 Indian Hospital. After the Gallipoli campaign of 1915, Alexandria remained an important hospital centre during later operations in Egypt and Palestine and the port was much used by hospital ships and troop transports bringing reinforcements and carrying the sick and wounded out of the theatres of war. This cemetery was begun in April 1916 when it was realised that the cemetery at Chatby would not be large enough. Most of the burials were made from the Alexandria hospitals but a number of graves of December 1917 were due to the loss of the troop transports "Aragon" and "Osmanieh" which were sunk by torpedo and mine as they entered the port. The cemetery continued in use until December 1919 but later some graves were brought in from the western desert, Maadia and Rosetta.
Eustace may have been a patient at one of the hospitals in Alexandria but considering his date of death it is more likely that he was aboard the liner "Osmanieh". The "Osmanieh" was built at the Swan, Hunter and Wigham Richardson Yard, Newcastle, and was launched on 9th May 1906. She was taken over for service as a fleet auxiliary or 'fleet messenger' during WW1. On Monday, 31st December, 1917, she was carrying troops and medical staff to Alexandria when she was struck by a mine laid by submarine UC34 under the command of Oberleutnant zue See Horst Obermuller at the entrance to the harbour. She sank very quickly taking with her Lt Cdr D R Mason, two other officers, 21 of its crew, one military officer, 166 other ranks and 8 nurses.
Eustace is also remembered on the memorial inside the church at St Giles, Bredon, where his family were living at the time of his death.
WHO ARE THESE MEN ?
A framed scroll was discovered at St Mary's, Norton, also recording the names of those men who appear on the War Memorial. There are two names recorded, however, Frank Watkinson and Charles Noel Ridley, that do not appear on the memorial. Each of these soldiers have had an 'x' placed next to their names but the reason for this is not clear. Perhaps they were incorrectly associated with the village at the time of the War with the mistake being later rectified. There are three F Watkinsons recorded on the CWGC Debt Of Honour Register as having been killed during the First World War but none of them can be positively identified as having any connection with Norton. In the case of Charles Noel Ridley, however, having a more uncommon name, a possibility has been identified but again there is no apparent connection to Norton.
CHARLES NOEL RIDLEY
Charles was born at Park End, Northumberland, and was the husband of Daphne. He served as Captain in the Northumberland Hussars and was killed on Thursday, 7th October 1915, aged 30 years. He was buried at Grave II.A.52 at Longuenesse (St Omer) Souvenir Cemetery, Pas de Calais. St Omer is a large town 45km south east of Calais. Longuenesse is a commune on the southern outskirts of St Omer. The cemetery is approximately 3km from St Omer besides the Wizernes (Abbeville) road (the D928), at its junction with the Rue des Bruyeres. There is a large car park to the rear of the cemetery. St Omer was the General Headquarters of the British Expeditionary Force from October 1914 to March 1916. Lord Roberts died there in November 1914. The town was a considerable hospital centre with the 4th, 10th, 7th Canadian, 9th Canadian and New Zealand Stationary Hospitals, the 7th, 58th (Scottish) and 59th (Northern) General Hospitals, and the 17th, 18th and 1st and 2nd Australian Casualty Clearing Stations all stationed there at some time during the war.
St Mary's, Norton, also has a nominal roll that claims to record all villagers who served in the armed forces during the Great War. An asterix besides a name appears to indicate those who were killed. It is interesting to note that both Frank Watkinson and Charles Ridley appear on this list as well, as does another Ridley; Arthur. This suggests that the men did have Norton connections of some kind. Charles Ridley's name is annotated with an asterix whilst Frank Watkinson's is not. This list also highlights two more possible casualties with village connections that have not been discussed so far; Cyril Edge and Frederick Eagles.
The Commonwealth War Graves Commission Debt of Honour Register does not include a Frederick Eagles amongst the First World War fatalities but it does include a Cyril Edge.
CYRIL EDGE
Cyril's parents and village connection have not been identified for certain. I have recently discovered that the vicar of Norton during the War, Rev Cherrington, was married to a Beatrice Edge and it may be assumed that Cyril was a relative of hers. He served as Private, No 12317, in the 7th Battalion Wiltshire Regiment and died between 16-18 October 1918. He was buried at Grave III.F.9 at the Highland Cemetery, Le Cateau.
Le Cateau is a small town about 19km south-east of Cambrai. Highland Cemetery is about 1km south of the town on the D12 road to Wassigny.
After the battle of Le Cateau (26th August 1914), the town remained in German hands until the middle of October 1918. The original cemetery (Plot III) was made by the 50th (Northumbrian) Division after the fighting of 17th October; the name Highland Cemetery is suggestive at once of the comparatively high ground on which it stands and of the 32 graves of the 13th (Scottish Horse) Battalion, Black Watch, found in this plot. The cemetery was greatly enlarged after the Armistice when graves of October and November 1918 were brought in from isolated positions on all sides of Le Cateau.