As with most properties in the village, the earliest information I have dates from October 1807 when the Inclosure Act reached Norton. At that time what we now know as Green Farm was owned by Edward Webb and was part of the Norton Court Estate.
In 1825 it was known as Lower Farm when John Stokes sold the property at an auction held by Messrs Moore & Sons, Estate Agents and Auctioneers of Tewkesbury, held at the Hop Pole Inn, Tewkesbury on 27th July.
The first tenant that has been identified was in 1838 when the farm was being run by Richard Taylor and was known as Green Farm.
A document that appears to date from the 1840s, when Miss Elizabeth Frances Webb held the manor, records who occupied each of the farms on the estate and who and how many people lived in the cottages that were located on each of the farms. It is evident that many of the cottages were shared by more than one family. Green Farm had a number of cottages. The first three cottages were located at Bradley's; first up we have Hannah Roberts, her son and his wife, John Bailey, wife and child, then Samuel Roberts with two sons and a daughter. It is recorded that the following three families all resided under one roof at Baylis' near Norton Green; Henry Baylis, wife and two sons, George James, wife and one child, and Richard Leach, wife and five children. I believe this is now the row of three cottages between Yew Tree Cottage and the Green containing Mead Croft and Jasmine Cottage.
In 1841 Richard Taylor was a 50 year old widow from Newnham and was living with three daughters and a son. In 1851 Green Farm was described as being 200 acres and Richard Taylor was employing four men.
The following article appeared under this heading in The Bristol Mercury newspaper of 10 May 1851; "A remarkable thunder-storm occurred at Norton, near Gloucester, on Wednesday se'nnight, from which the family of Mr Richard Taylor had a narrow and providential escape. A good deal of rain and hail had fallen during the day, accompanied by occasional lightning and thunder, but there was nothing unusual in the weather until about half past six in the evening, when a very remarkable flash of lightning was followed instantaneously by a crash of thunder, which resembled in sound the explosion of an immense cannon immediately overhead. In fact, it would appear as though the electric cloud had discharged its contents directly over the house. Three persons who saw the flash describe its appearance as of a ball of fire, and totally unlike any lightning they had ever before witnessed. The roof and two opposite sides of Mr Taylor's farmhouse were struck simultaneously with a force which carried away a considerable part of a chimney standing nearly in the centre of the building, and tore of a large portion of the slate roofing on each side, so that the rafters were laid quite bare. The window of an upper room in which an invalid was confined to bed was only slightly affected, but in the lower one the frame, which was of oak, was splintered and rent asunder in two places, and eight squares of glass shivered to atoms. On the other side of the house is the dairy, with a wire lattice window, in which some leaden weights were standing; these were blackened, and two of them perforated with a hole about the size of a pea. It seems remarkable that the house should have been struck in opposite directions with such violence, and yet no more injury sustained".
By 1861 Green Farm had become smaller being 190 acres but the staff had increased to seven labourers and three boys as well as a housekeeper, housemaid, dairymaid and a groom. Richard Taylor was to remain at the farm until 1863 when it was being referred to as Lower Farm again although it had returned to Green Farm later that same year when the tenancy transferred to James Weaver who took on a 7 year lease from Michaelmas of that year.
Richard Taylor was one of the driving forces behind the erection of the Methodist Chapel at Norton Green and for many years he had a memorial on the walls inside. When the chapel became a house a few years ago the memorial was moved and can now be found inside the tower at St Mary's, Norton.
When the land tax was assessed on the Norton Court Estate in 1868 James Weaver was at Green Farm and was liable for £457 15s 9d with pasture land at an additional £8 5s. In 1871 James was described as a 55 year old farmer from Boynton, Worcestershire, and was living with his wife Anne, from Boddington, and two children. James Weaver died in February 1878 and in 1881 Green Farm is recorded under his widow, Anne's, name as farmer and by 1883 under that of his son James William Weaver. Anne died in 1898, James William in 1918 and they have a memorial stone, along with their husband and father, at St Mary's, Norton.
The next tenant, Richard Isaac, had assumed occupancy by 1885. At the County Petty Sessions of the Gloucester Police Court in April 1885 we find Richard Isaac of Norton summoned for non-payment of rates in respect of cottages at Norton. Mr Isaac alleged that he had been summoned on the word of the assistant overseer in revenge for him having advocated a reduction in the others salary. The case was adjourned. By 1889 he had been replaced by Henry Theyer.
Of all the strange places to come across a story relating to Norton, you would have to look long and hard to beat The North-Eastern Daily Gazette of Middlesborough, but it is to that publication that we now turn. In the newspaper of 15th August 1892 I found the following report; "Incendiarism By A Little Girl. The whole of the ricks on the farm of Mrs Theyer, Norton, Gloucester, have been destroyed by fire. A labourer saw a girl, aged 4, running from the direction of the ricks with a lighted match in one hand and a box in the other, and at the same moment he saw the flames and smoke rising from the rick".
In 1891 Green Farm was the home of Henry and Elizabeth Theyer and their family.
Henry Isaac Theyer was born at Badgeworth in 1856, son of Isaac Theyer (1816-1897) and Sophia, nee Piff (1828-1869). Henry grew up at Badgeworth with the family at Crippetts Farm. In 1880 he married Elizabeth Fowler Champion Pope from Castlemorton, at Elkstone, near Cirencester. Shortly after this they emigrated to Australia where it is believed that Henry worked as a miner. Their first four children; Edward Isaac (1880-1969), Ida Mary (1883-1954), Horace Chalmers (1885-1960) and Margaret (1887-1891) were all born in Victoria, Australia, but by 1891 they had all returned to the UK and were settled at Norton.
Their stay at Norton must have been very brief and maybe the death of daughter Margaret and then the fire was enough motivation for them moving on but by 1896 when another daughter, Ethel Elizabeth, was born, the family were already living at Colethrop Farm, Haresfield. In 1881 we find that Henry's father, Isaac, had moved to Parsonage Farm, Brockworth, and by 1911 Henry himself had taken on this farm.
The next long term tenant, Edwin Archer. The Archer family would appear to have arrived in Norton in the 1890s and settled at Green Farm, Bishops Norton. Edwin and wife Matilda had several sons amongst whom were Sydney James and William Harold. There were two elder sons and both parents and sons were born at Twyning or Upton on Severn near Tewkesbury, Glos. Edwin suffered a personal loss in July 1907 when his wife choked to death after a violent fit of coughing.
The following article was printed in the Gloucester Citizen of 13th July 1907 :-
"Fatal Fit Of Coughing. The Divisional Coroner (Mr J Waghorne) held an inquiry on Friday at the Mission Room, Norton, into the death of Mrs Henrietta Matilda Archer, aged 57, who died suddenly on Wednesday. Col Arbuthnot was foreman of the jury.
Edwin Archer, farmer, Green Farm, Norton, husband of the deceased, said she usually enjoyed good health but in February last had an attack of pleurisy and was then attended by Dr Foster of Churchdown. She apparently got over that and continued well until July 10th. On the previous night she went to bed with witness about 10:30. About 4 o'clock she woke up and dozed off again but half an hour later woke again and was seized with a violent fit of coughing, seeming to have a great deal of phlegm she could not get rid of. She asked for some hot water with the intention of inhaling the steam. Witness called his son and the water was obtained as soon as possible but it was then too late.
Herbert Edwin Archer, son of the first witness, corroborated. He went for Dr Moore of Churchdown.
Dr Reginald Devereux Moore stated that in February deceased was attended by Dr Foster, his partner, and from a perusal of his notes from the case witness found that in February last deceased was suffering from a weak heart in addition to pleurisy. Witness was called about 5:30am on Wednesday and found on arrival at The Green Farm that Mrs Archer was dead. His opinion was that she died from syncope due to a weak heart brought about by the strain of coughing. A verdict in accordance with the medical evidence was returned. Col Arbuthnot, the Coroner, who remarked that it was a sad case, and the jury all expressed deep sympathy with Mr Archer and his family for which the farmer expressed his thanks".
This was not a good period of time for the Archer family. Two of their children emigrated to Forbes, New South Wales, Australia, around this time where one, William Harold, died aged 27 in 1913. Edwin himself died on 28th December 1914 and is remembered on a headstone at St Mary's, Norton, along with his wife and son from Australia. The other son who emigrated, Sydney James, returned to Europe to fight in the First World War as Private, No 2368A, in the 45th Battalion, Australian Infantry, and died on Thursday, 7th June 1917, aged 33 years. He too is remembered in Norton on the village War Memorial
By 1919 the farm had passed to Herbert E Archer, a relative perhaps, and was described as being in excess of 150 acres.
A report dated 19th December 1922 states that Green Farm was then held on a yearly Michaelmas tenancy by L T Yeates. It had an acreage of 164a 3r 19p and Yeates paid £134 per annum rent. He was variably known as Leonard Yeates and Thomas Yeates in surviving records, presumably his two forenames.
By 1931 the farm had transferred again to Harold Melville Spiers and family.
In June 1940 the Gloucester County Bench had to decide on where priorities lay between the wife of a serving soldier and that of agricultural interests. Harold Spiers of Green Farm, Norton, had applied for possession to be granted to him of a cottage at Norton Green. Mrs Hooper was the occupant of the cottage alone as her husband Percy was on active service with the army. A compromise seems to have been reached whereby Mrs Hooper was to be found alternative accommodation and although an order was issued to give possession of the cottage to Mr Spiers in between 21 and 28 days, a level of flexibility was built in to make sure that Mrs Hoopers new cottage was available before she moved out.
Although this appears to have come before the Gloucester County Bench in June 1940 it would appear to have been an issue some time before that. On 28 November 1939, The Herald newspaper of London reported; "His home is saved, the soldier need not worry. Mrs Hooper, a soldier's wife with five children, will be able to keep her threatened cottage home. She lives at Norton, near Gloucester, where her husband was a cowman employed by Mr Melville Spiers, of Green Farm. When Mr Hooper was called up on the outbreak of war, Mr Spiers said he wanted the cottage for another man, and gave Mrs Hooper notice to quit. She refused to go. Mr Spiers then asked Gloucester Agricultural Committee to certify that the cottage was necessary for the proper cultivation of the farm. A sub-committee recommended such certification. But yesterday the full committee, by a majority, decided not to grant the certificate".
In September 1948 it was reported that Mr Harold Melville Spiers, of Green Farm, Norton, had produced a single potato that weighed in at an impressive 3lbs 6oz.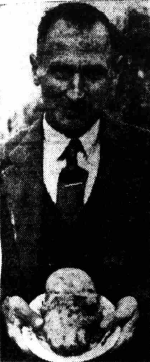 A Ministry of Agriculture farm survey dated 1941-3 recorded that Green Farm was owned by Capt Walker, Norton Court Estate, and farmed by Harold Spiers. It was a mixed farm and rated 'Class A'.
Green Farm was bought by Harold Spiers when the Norton Court Estate was auctioned in 1952 and has remained in the same family ever since now being farmed by two of Harold Spiers' sons.
In 1985 Green Farm was v Grade II Listed Building described as follows; "Detached farmhouse. Late C17-early C18, C19 and C20. Brick and square-panelled timber-framing with unpainted brick infill, red tile roof, brick stacks. Late C17-early C18 farmhouse. L-shaped plan with C19 infill in angle between wings rear right, large C19 service wing rear left, altered and converted C20. Main body: 2 storeys and attic lit by single 2-light gabled roof dormer. Two C20 canted bays lighting ground floor at garden front, windows otherwise mostly 3-light casements with horizontal glazing bars. Projecting C19 gabled, part-glazed porch at centre of left-hand wall with pendant and finial. Fielded 4-panel door within".